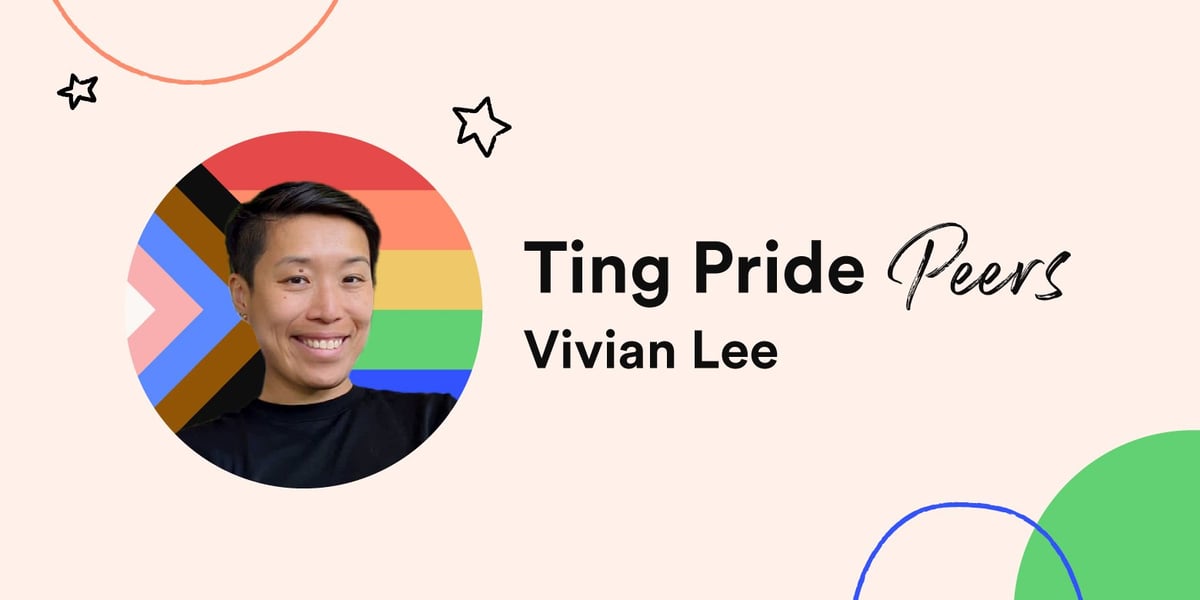 A 2SLQBTQ+ mentorship program at Tucows with Vivian Lee
Read about Tucows' 2SLQBTQ+ mentorship program started by Vivian Lee.
---
Vivian Lee started her journey at Tucows with Ting Internet in October 2018 as Senior Director of Project Management Office & Organizational Development to begin building a project management office and function as Ting Internet expanded into more cities. Her current and past work with her team includes fulfilling business orders, rolling out new construction efforts, coordinating operations flow with design and installation teams, and introducing new products to markets. Vivian currently resides in Amsterdam and works with Tucows employees across North America as well as Europe.
Prior to her current role, Vivian's portfolio included working on projects such as making healthcare programs accessible to minorities, including queer and trans communities. She had also worked on generating training programs and culture competency care. Since her primary focus revolved around better access for racial minorities and marginalized groups, it led her to explore the idea of introducing a mentorship program within the 2SLGBTQ+ community of Tucows. This mentorship program could play a key role in bonding and communication among the existing community. It could also help folks share insights into how their experiences of 2SLGBTQ+ identities can help build resilience in professional and personal settings.
At this point, there was an existing informal support group in the form of a Slack channel which was set up in 2016 where the community connected and planned events. Vivian utilized this platform to call out the idea of a mentorship program where the Tucows community expressed how they can benefit from it from a professional perspective.
The mentorship program started informally in mid-2020 and to help set them up, the L&D department provided support with a capacity-building session where peers split into two small groups of mentors and mentees. One or more people from each group was given the opportunity to collaborate with the other group and be accountable for their respective groups.
Since then, the group has been gathering at one- to three-month intervals to discuss topics varying from Tucows initiatives to professional and personal growth. It's a program that supports initiatives that can be carried out at grassroots levels, focusing on empowerment and support, along with building capacity from within—making sure that the community feels empowered as a participant rather than an audience of important conversations. The program is designed based on needs, whether it's specific needs, professional support or just having a community to count on.
Mikale, an Event Stream Data Manager, told us about her experience being a part of the program: "This mentorship program has given me a more substantial way to connect with folks in the [2SLGBTQ+] community at work. Our group is part sharing and part action. It is wonderful to feel comfortable sharing a bit more deeply about my full self at work and, at the same time, plan some important initiatives. From redesigning our company Pride shirts to implementing our pronouns project and more, these efforts help maintain and improve our culture here."
Vivian's professional role and skills allowed her to put structure around the mentorship program outline. She ensured the program would be a collaborative platform where various topics are covered and the community feels empowered and connected. Earlier this year, a refresh led to a newer format of the program now that there are more people participating in it. The group continues ongoing Pride planning and initiatives, aligning on future goals, and focusing on how the mentorship program can be a continuous source of support and empowerment for their community. In Vivian's own words, "No hard commitments, just some rainbow Herd TLC."