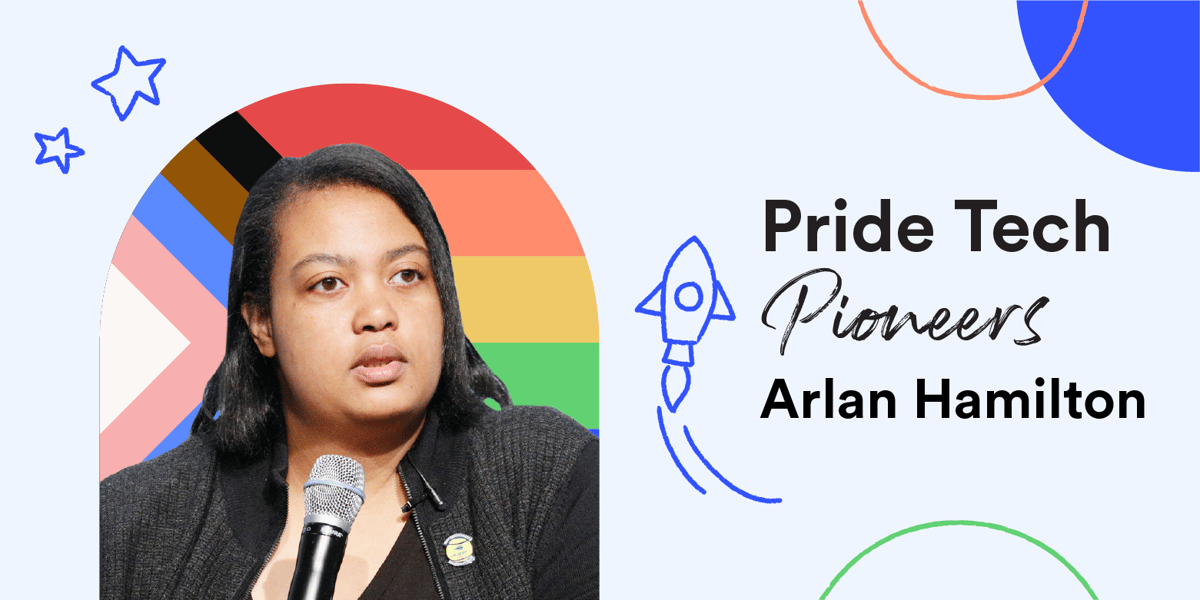 Featured
Arlan Hamilton: From homeless to founding a venture capital firm
Arlan Hamilton runs a venture capital firm that invests in "underestimated" founders, including people of color, women and LGBTQ+ individuals.
---
Hearing about people that battle through adversity and/or prejudice to succeed is always heartwarming. And of course, we all love an underdog story. While all of the individuals we profile this month will fall into at least one of these categories, Arlan Hamilton's path to where she is today is simply incredible. Anyone who knows me knows I hate spoilers, but I feel like we have to set the table for her story. *Deep breath*: a black, queer woman—with no college degree or connections in the exclusive Silicon Valley tech and finance world—launched a venture capital firm while she was homeless that has invested millions in companies that have founders from underrepresented demographics. We both know you're dying to hear more, so let's get to it.
Early Years
Arlan Hamilton was born near Dallas, Texas on October 30, 1980. Raised by a single mother with modest means, Arlan regardless knew she was destined for more. She recounts a story of getting onto her daycare bus one day and being struck with a feeling of absolute surety that the world would one day know her name. Unsurprisingly, she exhibited entrepreneurial savvy pretty early on. In third grade, she started her first business: reselling candy that her mother bought in bulk at Costco to her classmates. She excelled at both her studies and her high school job, and was voted "most likely to succeed" at graduation. Still, she held no love for the former: "I hated [school because] I wasn't allowed to really express myself, or ask questions beyond what was in the books."
A foray into music
Unlike many entrepreneurs, Arlan didn't dive directly into business ventures. Instead, she started off in the entertainment industry. She was a TV production and director's assistant, a booking agent, and a tour manager for increasingly popular acts including Pharrell Williams, Jason Derulo and Toni Braxton.
Even as she began to make a name for herself, she was wary of the uncertain nature of the entertainment industry. Then, in the early 2010s, she noticed something interesting. People in that very industry who were already incredibly successful (she cites Ellen DeGeneres and Ashton Kutcher as examples) were themselves creating another revenue stream by investing in tiny startups. These fledgeling companies were all located in a place called Silicon Valley. She looked into it, discovered the lucrative nature of the investment world, and pretty soon was completely hooked.
The Arlan Hamilton accelerated investment school—lone student: Arlan Hamilton
So you're probably thinking her next stop was obvious: begin taking some manner of business classes, right? Not Hamilton. As she told Quartz magazine: "To become a [venture capitalist], most people go through four years of school, or get an MBA. I thought 'I can figure that out.' So I just did that at home." From a blowup bed in an apartment shared with her mother, the thirty-something Arlan used blogs, books YouTube videos and a whiteboard to teach herself the ins and outs of investing. When she encountered professionals like Martin Bjergegaard, she would pick their brains.
Eventually, though, she knew it was time to receive official instruction and decided it would come in the form of a two-week course at Stanford University. The problem was she certainly didn't have the money for the course, much less for travel, food and lodging. So she did what any good entrepreneur would do and blew up social media outlining her situation and why she'd be a good investment. Among those who came to her aid was billionaire Chris Sacca (an early investor in startups including Uber, Instagram and Twitter). Needless to say, Hamilton made it to Stanford.
An uphill struggle
Armed with an arsenal of knowledge, an economy-sized helping of self-belief and the type of work ethic usually seen in Hall of Fame athletes, Hamilton was 15 minutes from Silicon Valley and ready to take on the investment world. The investment world, however, was less ready for her. She set up hundreds of meetings, weaponized her LinkedIn account, and would even have impromptu chats running alongside bigshots between their car and their office. But for quite a while, her efforts mostly came up empty.
I don't know if you've heard, but San Francisco is kind of an expensive city. Like, mind-bogglingly so. As a result, Hamilton's savings soon ran out. With her bank balance often reading in the negative, an AirBnB or hotel room soon became the exception rather than the norm. Little did her 9 am meetings know, she was often coming to them after sleeping on a friend's couch, or during her most dire time, the floor of the San Francisco airport.
There were two early supporters, however, that were instrumental in Arlan being able to turn a corner. The first was seed accelerator president Sam Altman, who gave her a loan that kept her afloat. The second was Susan Kimberlain, who she had met at the Stanford course. Believing in Hamilton's vision, Kimberlain became Arlan's first investor.
The birth of Backstage Capital
Now let's talk about that vision. For those with memoires that are the opposite of mine (i.e. good ones), you'll recall that Hamilton was attempting to take on Silicon Valley as a black, queer woman with no college degree or connections in that world. As if that wasn't enough, the idea she was pitching potential investors would not have struck the majority of them as a lightning rod for great returns.
Arlan's baby was a venture capital firm called Backstage Capital. This firm would invest in what she calls "underestimated founders:" entrepreneurs who come from groups that are underrespreseted and often overlooked. This includes women, people of color and members of the LGBTQ+ community. Taking black women as an example, this group receives just 0.2 percent of all venture capital and a miniscule $36,000 for every $1.2 million invested into white male founders. While the former is clearly a smaller group than the latter, Hamilton realized that these numbers certainly did not equate to the number of deserving black female startup founders. She decided that not only was it the right thing to do to create a fun geared towards these individuals, but that it was a sound business strategy as well.
The rise of backstage capital
Thankfully, some very well-respected investors agreed. Kimberlin, a tech veteran whose resumé includes product development roles at Salesforce and PayPal, got the ball rolling with a $25,000 investment. Kimberlin was followed by a number of big names including Box co-founder Aaron Levie and Lowercase Capital founder Chris Sacca. Today, Backstage Captial has invested millions in more than 200 companies, that have themselves raised over $500 million in investments. The firm recently received a $1 million investment from Comcast, and continues to work on its $30 million Opportunity Fund.
In May 2022, Backstage Capital announced that for the time being, they would only be existing in existing portfolio companies and increase focus on the firm's own fundraising efforts. You won't hear many people fault them for this decision: in order to continue their mission, this is a necessary pivot. The deserving founders receiving investments from the proposed fund will see significantly larger cheques ranging from $250,000 to $1 million.
A true venture capital innovator
Backstage Capital is widely recognized as having one of the most demographically diverse portfolios in the VC industry. Importantly, this includes companies seeing increases in value. Arlan Hamilton is proving her hypothesis that the lack of minority representation among venture capital recipients isn't a pipeline problem, but rather a talent recognition issue, and thus an opportunity for firms like hers.