Featured
JBuds Air True Wireless Earbuds: go wireless without breaking the bank
JBuds Air True Wireless are the best budget headphones if you want to go wireless. Love a bargain? Read our review to find out why we rate them high.
---
If you're in the market for a pair of wireless earbuds, consider our top-rated, affordable Bluetooth headphone option, compatible with both Android and iPhone: JBuds Air True Wireless Earbuds. These wireless earbuds are just $49 on Amazon and stand up to water and sweat. JBuds come with a portable charging case and overall, perform well above their price point.
With manufacturers losing headphone jacks faster than you can say AirPod, it might be time to consider trying out an affordable pair of wireless earbuds. You don't have to spend upwards of $150 or $200 on wireless earbuds to get a solid audio experience.
Whether your phone has a headphone jack or not, there are many benefits to going wireless when it comes to audio. Cords can be clumsy and if you're active, wireless headphones make for a more natural running, hiking and cycling experience,
Make the smarter buying choice and go with JBuds over AirPods.
Love a bargain? Meet Ting
Ting Mobile is the mobile provider that helps you save on your monthly cell phone bills so you can spend on what you love. The average family of four pays just $19.75 per phone on Ting.

See how much you could save.

[link url="http://ting.com/rates" title="Check rates" open="new" type="read more"]Check Rates[/link]
$49 on Amazon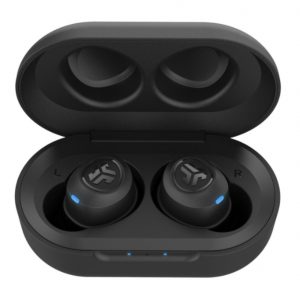 JLab's JBuds Air True Wireless are our top pick for earbuds that perform above their price point. Get three to four hours of music, podcasts or audiobooks with 10 extra hours of battery in the case. Lights on the outside will let you know how much power you have left. The case is rechargeable via USB. You can get one hour of playtime with 15 minutes of earbud charging. Get a full charge in 1.5 hours. The case charges in two hours.
Once they've been paired for the first time, whenever you take your earbuds out they'll automatically connect wirelessly to each other and your phone. JBuds Air True come with IP55 certification, which means they're water resistant to sweat and rain, and good for exercising and outdoor activities.
The right earbud has a mic for hands-free calling and also lets you interact with voice assistants like Siri and Google Assistant. You can customize your sound preference and choose from Signature, Balanced or Bass Boost modes.
JBuds Air True review
Wireless earbuds can be cost-prohibitive when you're browsing products from Samsung and Apple. At Ting, we love to see more wireless earbud options coming out in the under $50 range.
JBuds are a great choice if you're shopping for workout earbuds. They've got a decent battery life and are water resistant. Size wise, they feel a little buky, but each earbud weighs in at just six grams. If your workout doesn't stretch well beyond an hour, these should suit you fine.
Don't forget: download your workout content over Wi-Fi
Streaming Spotify or YouTube workouts at the gym over mobile data doesn't make a lot of sense. Don't forget to download your workout content over Wi-Fi before you sweat.

[cta link_text="Check your Phone" url="https://ting.com/byod" title="Try Ting with your phone" text="Most phones work on Ting with no changes required. Confirm that yours is one with a risk-free BYOD check." image="https://ting.com/wp-content/uploads/Blog_CTA_Graphic_BringPhone.png"]