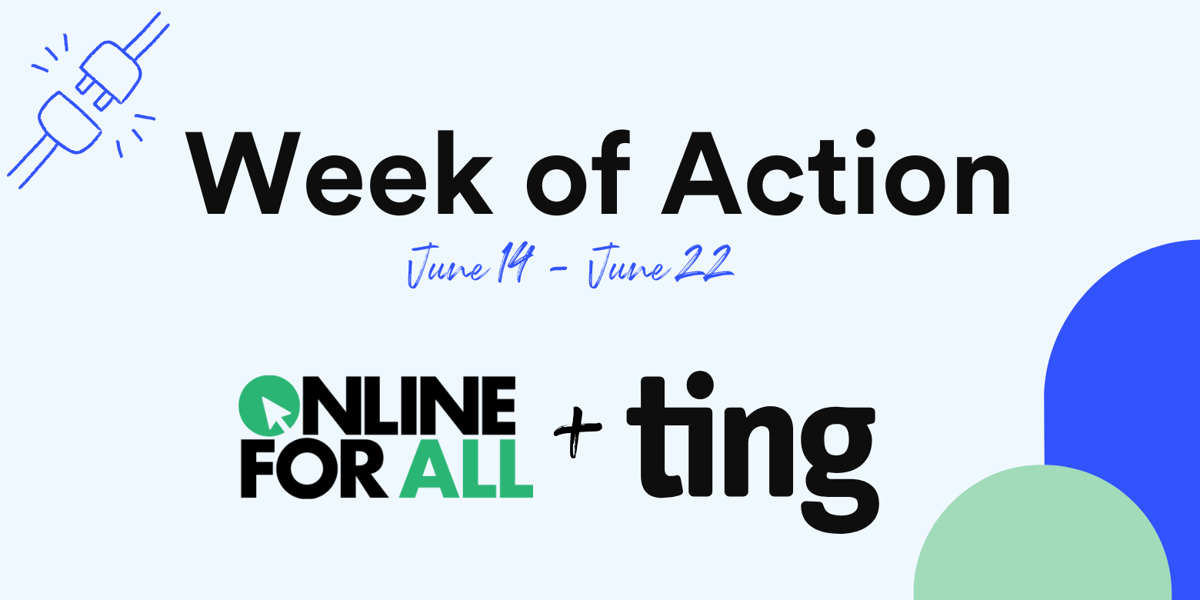 Towns
Online For All: Learn more about the ACP Week of Action
Find out more about the White House's ACP Week of Action and Ting's commitment to helping bridge the digital divide.
---
At Ting, we have always been committed to increasing internet access for all. We believe everyone should have access to high-speed, reliable internet service, regardless of economic situation. It's why we have always partnered with local schools, libraries, and "Friends of Ting," and also why we have been steadily expanding our partnerships with local community organizations working on digital equity and inclusion, and digital navigation, among other critical issues.
So, when the White House launched their Week of Action for the Affordable Connectivity Program (ACP) on June 14, we were proud and enthusiastic to support it. As part of the Week of Action, the White House launched "Online for All" – a multi-stakeholder initiative led by Civic Nation and the U.S. Department of Education that leverages a variety of mobilization efforts – both large and small – to increase awareness of the ACP. If you're interested in learning more about Online for All check out their website here.
What is ACP?
In 2021, the Infrastructure Investment and Jobs Act (IIJA) changed the name of the existing Emergency Broadband Benefit (EBB) Program to the Affordable Connectivity Program (ACP) and allocated an additional $14.2 billion in funding. IIJA also created the $42.5 billion Broadband Equity, Access, and Deployment (BEAD) program, creating a once-in-a-generation opportunity to drive expansion of broadband infrastructure and services. They did so because these services are no longer luxuries, but necessities for meaningful participation in modern society, whether it be for work, education, social interaction and culture, healthcare, or any number of other applications.
At Ting, we recognize that fast and reliable internet connectivity is critical to full participation in the digital age, and as such, we have been early and enthusiastic supporters of EBB and ACP. We are happy to see that over 18 million households have enrolled in the ACP, and hundreds of thousands more continue to sign up each week.
However, enrollment remains relatively low among the eligible population, which many experts estimate to be over 50 million households, or roughly 40% of those in the United States. It is critical that government, private sector, nonprofit, and other stakeholders work together to raise awareness of the ACP and ensure the remaining 30+ million eligible households, an estimated 18 million of which are currently unconnected, are empowered to access the benefit. These figures underscore the importance of the White House's Week of Action, as well as the efforts being undertaken by Ting, our friends across the industry, and the many non-profit and other community organizations working tirelessly to expand access to connectivity.
Unfortunately, most experts expect ACP funding to run out in 2024 unless Congress acts to fund this essential program. ACP is critical to tens of millions of American households throughout America, both urban and rural. Stripping ACP funding would severely limit the ability of these households to meaningfully participate in the digital economy, access telehealth and distance learning opportunities, and more.
To keep these families connected, and allow tens of millions more to get online, we believe that Congress, with the support of the White House, industry, and other stakeholders, should develop a plan to ensure continuity of funding for the ACP, while also working towards a sustainable, long-term solution. The ACP has been extremely impactful in beginning to narrow the digital divide in the United States, and it is critical that we continue to build upon it instead of undoing the significant progress already made.
Ting's commitment
We at Ting are in the process of rolling out a new industry leading ACP offering, which will provide ACP eligible households with Ting's premium symmetrical gigabit internet service at no cost to them. This offer is available to residents in Alexandria, VA in the portions of the city that already receive Ting service, and ultimately will be available to all ACP eligible households in Ting markets.
For Alexandria residents interested in learning more about Ting's local ACP offering, please click here. For residents of all other Ting markets who would like more information about our ACP programs, please visit our website here.