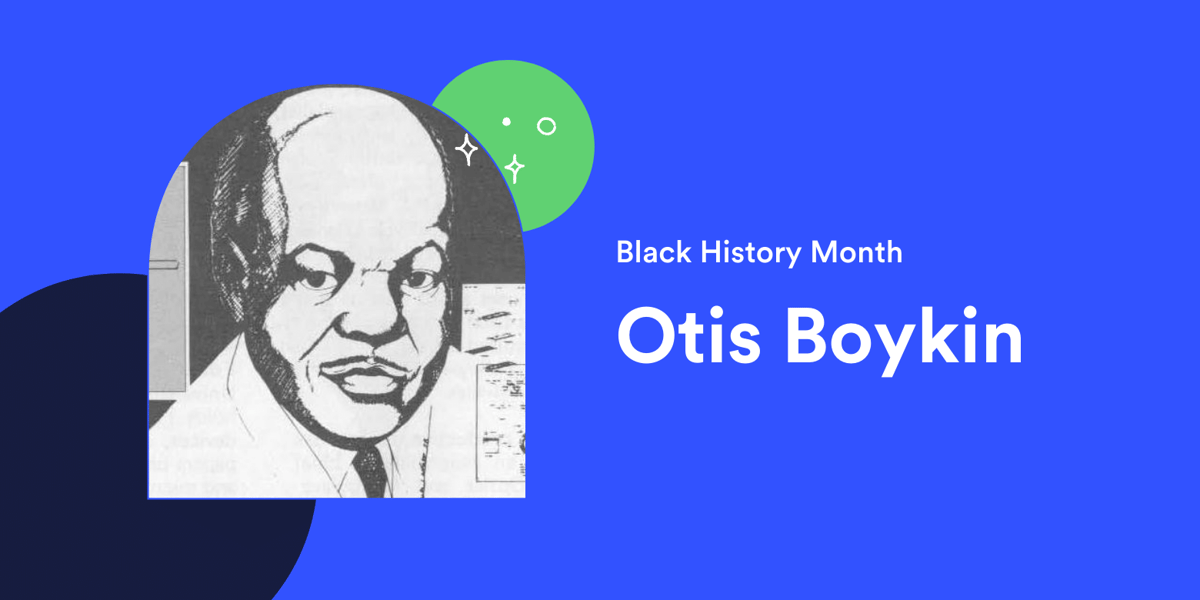 Otis Boykin: Kept on ticking
A Black History Month post celebrating Otis Boykin.
---
Throughout Black History Month in February, we're sharing a few stories of Black tech pioneers who had an outsized impact on technology and the world as we know it today.
---
In our last profile of Black tech pioneers, we highlighted the work of Garrett Morgan. A number of his inventions contributed, and continue to contribute, towards keeping people safe every day. However, one could argue that an invention by today's subject saves lives in a more direct way. Out of his 26 patents, the most famous is certainly the control unit he designed for pacemakers. As it turns out, precisely regulating electricity was kind of his thing.
Education
Otis Boykin was born on August 29, 1920, in Dallas, Texas. He was the seventh of eight children in a family of modest means. His mother died of heart failure when Boykin was quite young. Not much is known about his early childhood, but we do know he was an excellent student, graduating as valedictorian of his class at Booker T. Washington high school. He received a scholarship to study Physics and Chemistry at Fisk University, pulling double duty as an assistant in the university's aerospace lab. Well, triple duty if you count his position as a live-in domestic worker. He eventually left Fisk prior to graduation in 1941.
Early employment
He was first employed as a clerk by the Electro Manufacturing Company. This was followed by a position at Majestic Radio & TV, again as a lab assistant. However, he quickly rose through the ranks and became a supervisor. Just three years after leaving Fisk, Boykin was hired as a research engineer at the P. J. Nilsen Research Laboratories. He would briefly become a student again between 1946 and 1947, taking courses at the Illinois Institute of Technology. After just two terms, he abandoned his studies to focus on his career.
Otis Boykin, inventor
Boykin's path to being an inventor began when he started a company of his own with an old mentor. Boykin had met Dr. Hal F. Fruth at Electro Manufacturing Company, and the two had collaborated over the years. Near the end of the 1940s, they formed Boykin-Fruth, Inc. They applied for their first patent in 1952. The precision resistor they designed was a revolution, accurately regulating electrical resistance. What's more, it was less expensive to manufacture.
Clearly at the forefront of their field, Boykin and Furth were hired by the Monson Manufacturing Corporation as Chief Engineer and Vice President of Research respectively. As a Black man in the early 1950s, this speaks volumes to Boykin's individual talents.
Boykin soon was hired by the Chicago Telephone Supply Company (later CTS). There, he developed an even more advanced resistor. Even more precise and inexpensive to manufacture, this resistor could also withstand extreme temperature changes and physical shock. Boykin's resistors were widely used in many applications, from missile guidance to IBM computers. One year later in 1957, he was promoted to senior project engineer. After developing a resistive cermet—a ceramic and metal mix—Boykin would soon go on to his most famous invention.
The pacemaker control unit
In 1958, Wilson Greatbatch (who undoubtedly had to listen to plays on his last name and 'greatness' until he was sick of it) and Dr. William Chardack developed the first practical, implantable pacemaker. While a team in Sweden developed a similar device sooner, theirs didn't have the longevity to be viable.
A few years later, Greatbatch teamed up with Boykin and CTS to develop a trimmable potentiometer or" adjustable resistor." This could be used as a control unit for implantable pacemakers, helping to accurately set the "pace" of the heartbeat.
It goes without saying that the impact of this invention was enormous. Whether Boykin was afforded the recognition he clearly deserved is questionable. Especially if we take into account how things played out for many other Black inventors.
In 1968 President Dwight D. Eisenhower suffered a heart attack. Boykin was lauded as one of the men who developed the device that saved his life. With this elevated profile alongside the respect he had already earned, he became an in-demand consultant both at home and around the world.
Legacy
Boykin will be remembered as both a highly skilled engineer and a prolific inventor. In 1975, Boykin sued CTS, claiming that they had improperly acquired exclusive rights over two patents that should be attributed to him. While his suit was not successful, that does nothing to tarnish Boykin's legacy as one of America's most respected inventors.
At the time of his death in 1982, he held 26 patents. While his own death was premature and a result of heart failure, the fact remains Boykin's inventions have saved innumerable lives.