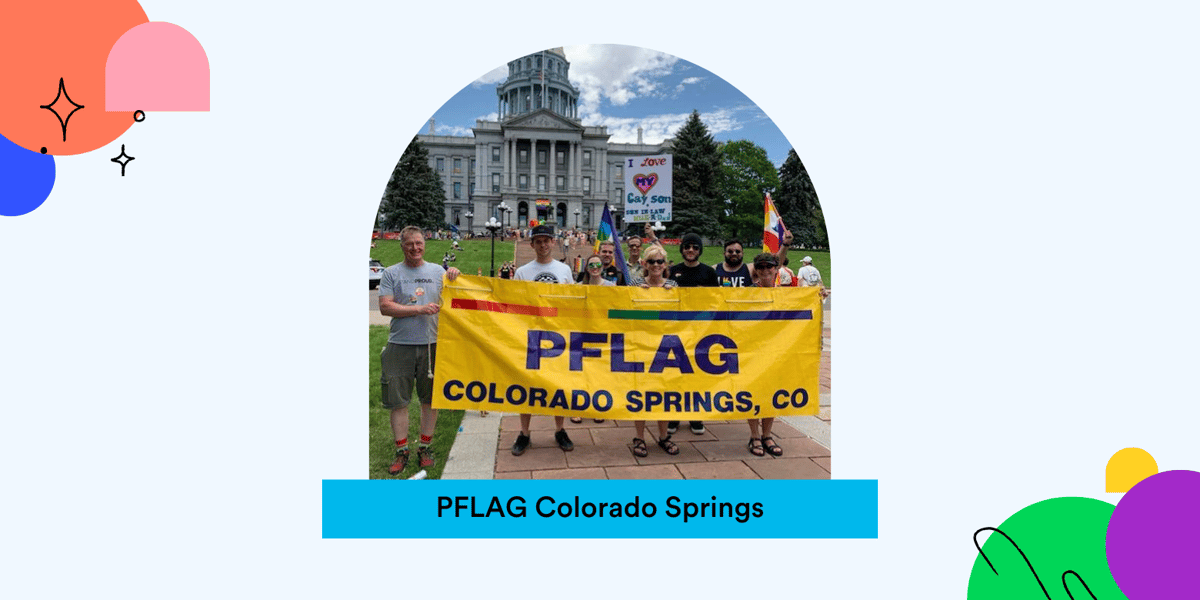 Pride Spotlight: PFLAG Colorado Springs
Read our Q&A with PFLAG Colorado Springs to find out more about the impact they are making in their local community.
---
Organizations like PFLAG play a vital role in supporting and advocating for the LGBTQ+ community. This Pride month, Ting Internet has committed to donating $10 for every order and pre-order to local PFLAG chapters in Ting towns—learn more at tinginternet.com/pride.
To shed light on some of the remarkable work done at a local level, we had the privilege of interviewing the dedicated members of PFLAG Colorado Springs! We recently chatted with the local team about their origin story, the profound impact they have made within the community and much more.
---
Can you tell us more about your local chapter, including how it got started and what its mission is?
The national organization known as PFLAG was founded in 1973 after the Stonewall Riots had helped to fuel the gay rights movement in 1969. PFLAG chapters began forming around the country. PFLAG Colorado Springs was formed in 1995 by three families whose children were LGBTQ+ and is affiliated with the national organization as a 501(c)(3) nonprofit.
Can you share some of the various programs and services your chapter offers to support LGBTQ+ people and their families?
PFLAG Colorado Springs has a monthly chapter meeting which provides speakers, discussion and support. It has a telephone hotline for support as well and publishes a monthly newsletter that is sent to over 500 subscribers. Volunteers set up tables at various events every year to hand out a great deal of PFLAG literature and talk with participants about LGBTQ+ issues. We regularly appear at concerts by the Out Loud Colorado Springs Men's Chorus, the Educating Children of Color symposium at Colorado College, the Rocky Mountain Women's Film Festival, and events at high schools and colleges.
What specific initiatives or events does your chapter organize during Pride month to celebrate and advocate for LGBTQ+ rights?
This year, in addition to marching in the Pride parade and having a booth in the park for the two-day Pride festival, we are appearing at the Cabaret performance on June 7 at Stargazer, and we are taking advantage of NPR's StoryCorps recording van being here for Pride month by scheduling StoryCorps interviews for PFLAG parents, the owner of Club Q, six youth and volunteers from Inside Out Youth Services, and the director of the Youth Documentary Academy.
Do you have any partnerships or collaborations with other LGBTQ+ organizations and community groups in town?
We make occasional donations to, and/or regularly support, Inside Out Youth Services, Pikes Peak Pride and the Out Loud Colorado Springs Men's Chorus (we usher for their concerts). We also provide some financial support to the Youth Documentary Academy in relation to its films with LGBTQ+ themes. We promote the Off The Street fundraising breakfast for The PLACE in July and usually have a couple of PFLAG tables at that event.
What resources do you provide to educate and support parents, families and friends who are navigating their loved ones' coming out processes or seeking to better understand LGBTQ+ issues?
PFLAG National provides a wide range of booklets on LGBTQ+ topics that are intended to guide families as their loved ones come out. Of course, the content has changed rapidly in response to the fact that youth come out at a younger age than in the past, and they come out in a whole cornucopia of different gender identities. We give away large numbers of these booklets, and they are also available in electronic format online at pflag.org/publications.
Why do you think LGBTQ+ organizations like PFLAG are so important in the world we live in today?
The wave of anti-LGBTQ+ rhetoric that has erupted from the conservative community speaks for itself. We tell our children that they are OK, but the media carries a lot of messages now to the contrary.
How can members of the community get involved with PFLAG and support your organization's mission?
Contact us at admin@pflagcoloradosprings.org!
How can allies of the LGBTQ+ community best support and advocate for their loved ones?
Talk about it with those who do not share our conviction that LGBTQ+ identity is innate.
We really appreciate you sharing with us! Is there anything else you want to say?
Thank you for your support.
---