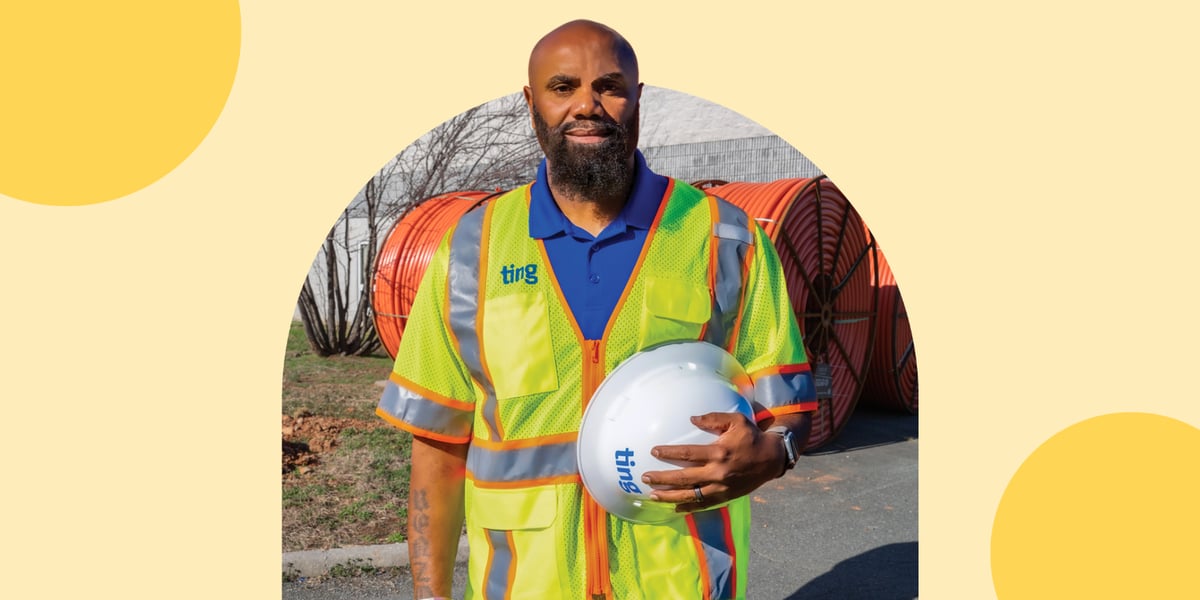 An Action-Packed Interview with Ting OSP Construction Supervisor Dwayne Washington
Part six in our series where we get to know our Ting teams. Meet Dwayne Washington from Charlottesville, VA.
---
While they love our reliable, lightning-fast fiber internet, Ting customers will tell you that a big part of their great experience is our dedication to customer service and support. There's a very simple explanation for this: We hire great people. Ting employees are knowledgeable and passionate about what they do. They're also interesting as heck! Here's a chance to get to know one of our amazing local team members. We're internet that gets you.
---
Please tell us your name and role with Ting.
My name is Dwayne Washington, I'm the outside plant (OSP) construction supervisor in Charlottesville, Virginia.
Are you originally from Virginia?
I am originally from Virginia, yes.
What's your favorite part of your role in your town?
The culture here. [My previous employer was] a corporation—a larger company. The culture there was running its employees into the ground. So here the culture is: We're going to do our job[s] well, but we have families too. We bust out eight or nine hours, and we go home. At my previous job, even as a manager, my phone would ring 24/7. You were basically on call 24/7/365. It's a big difference at Ting. My family appreciates me being here. I appreciate me being here. I have great peers at a really nice company.
We love to hear that. And what's your favorite part of what you're able to provide to Ting customers and the city?
I come with 20 years of experience in this business. At Ting, I've been able to work with my manager and bring up solutions that aren't just knocked down. Everybody listens, and as a result, you can do what's best for the customer and for the team. It's the customer that really pays our salary. So we put the customer first, not necessarily our investors, which is really, really good to see. It's not just talk; here you can see the customer comes first.
Awesome. Tell us about a regular day for you.
Our shift is 7:30 to 4:30. On a regular day, we already know what we're going to do from the previous day. Most of the time, my techs don't even come to the office—they go straight to the job, knowing what they have to do. They stock up the day before so they can be more efficient. They drive right to their first job and get to work. As for my regular day, I come in and go over all the times from the day before, go over whatever red lines we have to do on those maps. From there, you go to whatever meetings you need to go to, and then you've kind of got to play it by ear from then!
Do any interesting stories come to mind in terms of a particular installation or construction day?
Not yet, no. Knock on wood!
Yeah, that's a good point.
Everything's been running smoothly. You know you're [eventually] going to have those one-offs. But you know, I don't even look at those as one-offs. That's just part of construction. You just do what you got to do and move on.
This is the one situation where not having a particularly interesting story is not a bad thing. It means things are running as they should.
Yes.
Why is reliable internet important to you?
We can't have a job at all without reliable internet. My kids can't go to school without reliable internet. My wife, who's a pharmacist, can't have her job without reliable internet. You're gonna be left behind in life [without it]. As of right now, many of us don't have reliable internet, you know? It's sad for those people out in the country that are still on one 1 Mbps dial-up. Their kids can't do any homework—heck, they can't pay any bills. In this day and age, without reliable internet, you're going to be left behind.
It can be a great equalizer. You might not have money for certain courses or to set up a physical retail location, for example. But if you have a good, reliable internet connection and the desire to go after whatever it is…
Right. I mean, the way the internet and social media are now, you can sit home and make money. You don't even have to have products to sell. You can sell someone else's. It's the Amazon way!
Absolutely! So what about streaming? Are you someone that relies on the internet for TV and music?
I do stream music. I'll listen to any genre of music, but of course having a 14-year-old daughter, the music changes. You've just got to change with it! Here in my office, I like having music on in the background—it's one thing that can pick you up during the day.
When it comes to watching, I stream movies. I'm into action movies…anything with action! I'll also follow ESPN up and down. My daughter is also really into sports, so having reliable internet to livestream those games is very important.
What's a good place in Charlottesville to get food or coffee?
Well, I haven't eaten out in about six months now! My wife and I started this special diet, and it actually helps us be together more because we have to both cook.
That's amazing.
Yeah. It's like a date night every night! But there is a spot called the Downtown Mall. It's an outdoor walking mall with cobblestone pavers and maybe half a mile of shops and restaurants. It's probably the coolest place to go in Charlottesville because you can just park and shop and eat. Every Friday, there's live music down there at the Ting Pavillion.
Very cool. So what do you absolutely love about living in Charlottesville?
Charlottesville is a collection of a lot of different people. We have Northern Virginia an hour away; D.C. half an hour away; [and] Arlington and Richmond [are close by as well]. So we're Central Virginia. And we have so much to offer right here in Central Virginia—especially where I live. I'm five minutes from everything! I'm really from the country, 45 minutes away, where if you don't stop at a grocery store, you have to wait till the next day because you're so far away from everything. We moved here in 2005, and it's a great community and a great city. It's a city, but everybody knows everybody. It's nice—it's a family environment in Charlottesville.
That is kind of the dream: the convenience of a city with that community feel.
Yeah, exactly. When there was [rally, protests and clashes] in 2017—ever since then, people have just been coming together and loving on one another. They've come out [and expressed]: "That's not who we are."
That's beautiful. Okay, last question: What is a regular evening like for you?
Well, my daughter is into all kinds of sports: volleyball, softball. So right now, every evening it is on some field. She travels for competitive stuff as well. So we're either at practice or on a plane seven days a week. My wife and I do dates once a month. We got to have our own time too. But right now, it's all about getting our kids situated. Our daughter's the last one at home—we're pouring it all into her as we did all our kids. When she's out in four years, we'll have our alone time!
Long-term plan.
Yes!
Well, Dwayne, this has been great. Thanks so much for taking the time.
Thank you.