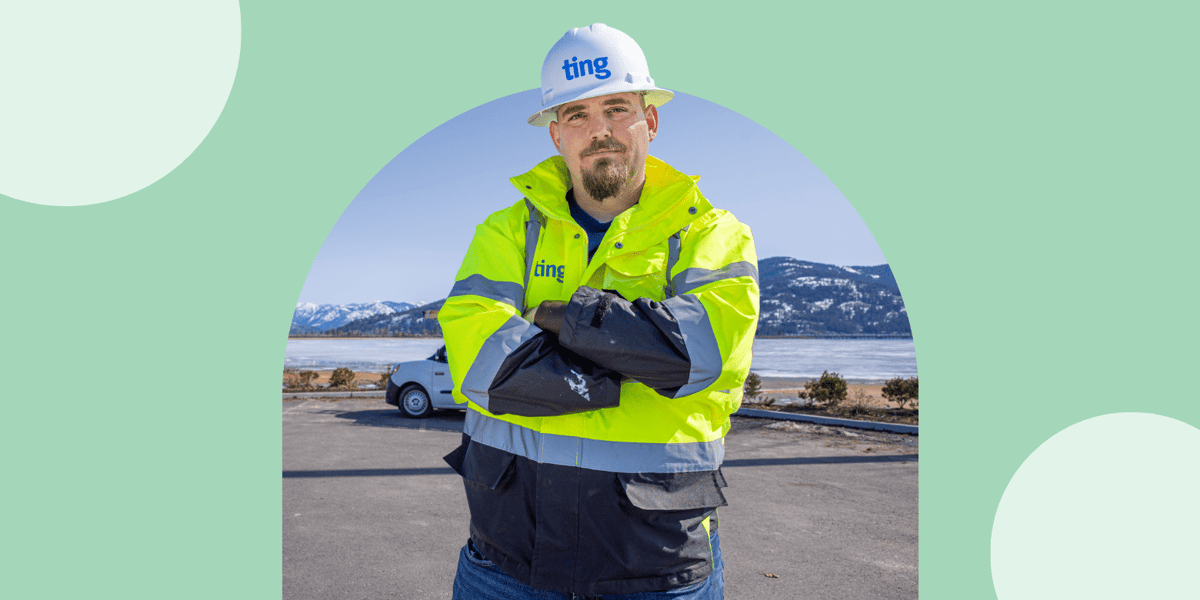 Michael Clarke's Fantastical Journey as Ting's OSP Construction Supervisor in Sandpoint
Part three in our series where we get to know our Ting teams. Meet Micheal Clarke from Sandpoint, ID.
---
While they love our reliable, lightning-fast fiber internet, Ting customers will tell you that a big part of their great experience is our dedication to customer service and support. There's a very simple explanation for this: We hire great people. Ting employees are knowledgeable and passionate about what they do. They're also interesting as heck! Here's a chance to get to know one of our amazing local team members. We're internet that gets you.
---
Please tell us your name and your role with Ting.
My name is Michael Clarke, and I work in the SPID market as the OSP (outside plant) construction supervisor. So any kind of construction that's entailed, as far as getting our infrastructure and our network built around the neighborhood, that's what I deal with. Contractors for drilling box, installations, all that kind of stuff requires outside work—that's me.
Michael, what's your favorite part of your role in your town? And do you live in Sandpoint?
I do live in Sandpoint. My favorite part of my role, besides being able to get the best of both worlds as far as office work and outside work is, since we are in such a small town, I pretty much know everybody I'm seeing on the street, and so you feel like you're part of the community rather than just some face and a vest.
Can you tell us about a regular day for you?
I get up bright and early, get to the warehouse, get myself a nice coffee and check out all the messages from my coworkers. Then, I get my guys into the office, and we go over what the plans are for that day. We delegate the responsibilities to get everything taken care of, and then off they go. And I start my day off as a supervisor, making sure to answer emails and calls and questions and concerns.
We also help the team with whatever information they need and, you know, somewhere in there fit in a bunch of goof-off time with my coworkers because we do like to cultivate that kind of friendly culture.
Would you say that sounds like that whole day's in the warehouse? And then your office is attached to the warehouse?
Yes, our offices are in our warehouse. And so my job is essentially, as a supervisor, to help out wherever needed. So let's say today we have a drop that's been going in for a customer, and they need some questions answered. Well, my guys will hit me up for any information, or I'll go out myself and interact with the customer face-to-face to help them, you know, understand what's going on and what we can do to help them. And so, I'm very much in and out of the warehouse, which I really like about it. I would go insane if I sat behind a desk all day.
Have you ever worked with any other internet service providers?
I have never worked with any other internet service provider. I got into the fiber-optic internet sector of work when one of my friends gave me a call. I was very unhappy in the job I was working, and he says, "Hey, I have this gig down in Puerto Rico. If you're interested, we're gonna be working for AT&T." I have worked for AT&T, helping rebuild the fiber-optic infrastructure after the hurricane that hit down there years ago.
And how is Ting different as an employer?
The difference is that Ting is your friendly neighborhood internet provider. And one of the things I've loved about them is how much they care and support us as their workers, but also our families. They treat you like someone that's more than just a number. I love it all.
For you, why is reliable internet important, not necessarily working for Ting, but just as a person?
Well, we are plugged in 24/7 nowadays. A lot of our lives are attached to the internet. And so now the way we live, especially in our society, is based on what kind of internet availability we have. And a lot of that is communication with friends and family across the world, but also connections as far as hobbies. You know, I also fight in armor, and that's a good community.
I was going to ask if you're a LARPer…
Larping extreme! Extreme edition. It brought about a connection and possibilities that I wouldn't have otherwise, and it's improved my life in a lot of good ways. I am also an avid reader, and so getting audiobooks or finding new books is always fantastic.
And do you play video games?
I do. I very much like anything that has a fantastic story—not so much online for like multiple players, but good stories that grab me. So historical fiction like the Assassin's Creeds, you know, Ghosted Machine. It's all story-based, so games like Mass Effect, which is this amazing sci-fi game that I really like. Also, the Hogwarts one that just came out.
The next question is similar: Have you been streaming any good shows lately?
There was this one that I really enjoyed out of South Korea called "Physical: 100" that was on Netflix. And so that one was really intense, but also very fun to watch. I really enjoy fitness. You know, with my sport, I have to be physically fit. So I've been working on that, and I had a lot of health issues in my family history. And so to avoid a lot of those, fitness is very important to me. And this show takes a hundred athletes from all different walks of life from fitness influence, there are two professional athletes to soldiers, and they bring them all together, and they will go down to the last one through all sorts of physical challenges. It's just fascinating to see how each different body type is better in one way or the other.
What's a good local place in your town to get coffee or a good place to get food? Tell us about your town.
Sandpoint, Idaho, houses one of the best coffee shops. It's been voted that many times, called Evans Brothers Coffee. Two local brothers started a coffee roaster years ago, and now it's one of the hot spots for getting yourself a nice hot cup of joe in the morning. They also have good teas and local baked goods and stuff like that, so it's always a good place to get one.
As far as food, there are not a lot of choices in town because we are small, but we do have some pretty good ones. One that I frequent a lot is called Heart Bowls, which is a kind of a plant-based diet—a vegan place where you get rice bowls, salads and smoothies that are really good. But if you want to find a really good hole in the wall that's out of the way, that really only the locals know about, it's Pack River Store. They're right on the river, so a lot of people will do river floats, and they'll start up there. And the chef there, named Alex, also houses a tasting room where you get to eat a delicious six-course dinner that's, like, high-level food. So it's got pretty much everything you want, either fancy, delicious, cheap sandwiches for lunch or really fancy expensive.
Do you use online services for your music? Do you have any songs you're listening to a lot right now?
Well, I have Spotify in my ear a lot of the day, so if I'm not listening to a podcast, which I'll do a lot of, you know, I'm listening to some really good music. I'm pretty wide and varied in my sense of music. I may be running or lifting while listening to show tunes, so "Mamma Mia" may be blasting through my headphones. Or I'll go metal style, and I'll be listening to Ghost, which is this fantastic band. Lately, I've been really driving with this album I found of Disney classics redone in metal style. "Toxic Love" by Jonathan Young and Lee Albrecht is my favorite. Jonathan has this whole album of Disney classics.
So, what do you love about living in Sandpoint?
Well, I definitely love the community. When I first moved here, I grew up in big cities like Salt Lake City and San Diego, so the small town was a little rough to get used to. You're so used to people talking to you because they want something from you. When I was able to move past that by getting into volunteering with the local fire departments and then getting into local theater, which I do for theater and film, it's really brought about that sense of, like, you have your family here. And when you see people out in town, you're not seeing complete strangers all the time. You see people you know, and so it's fantastic.
Sounds like a great time. Thank you so much for sharing your experiences with us.
My pleasure.
Thanks so much for your time! We really appreciate hearing from you and learning about your experience with Ting.