People
Welcoming Wake Forest legend, Thayer Thomas to the Ting team
Introducing the first Ting-sponsored NCAA athlete, Thayer Thomas, of the NC State Wolfpack football team.
---
Just last year, the NCAA started allowing college athletes to earn money on their Name, Image and Likeness (NIL). It created an exciting opportunity for these athletes, few of whom will ever play professionally, many of whom generate a ton of revenue for their schools, to get some financial return on all their sweat and celebrity status. It also created a totally new opportunity for brands to connect with customers and potential customers.
Of course, national mega-brands like Gatorade and Beats by Dre went out and did national mega-deals with national mega-superstars. But we are decidedly more mega-scrappy and mega-adorable (ok, I'm done with that prefix now) and we will always approach this stuff differently for several reasons.
First, we are not national. Ting Internet is still only available to a lucky handful of communities across the country. We are deeply rooted in those communities and we would only want to partner with athletes who are as well. Second, except for Cville (Go Hoos!), none of our current Ting towns are quite college towns. Folks could root for a bunch of different teams. So, we have to think even harder about which athletes our customers really care about. Third, we don't love advertising. That is, we don't see a ton of value in slapping our logo on jerseys if it doesn't add any value or offer any real testament to our wonderful service. Finally, we want a bit of a relationship with our athletes. We want to feel good about who we are sponsoring and want them to feel good and informed about what they are endorsing.
For all these reasons, I think we split the uprights (boom) and hit it out of the park (I'll explain) with our first ever Ting athlete (not including Neeb). Out of Heritage High School in Wake Forest, North Carolina, veteran standout wide receiver for the nationally ranked NC State Wolfpack football team…Thayer Thomas!!!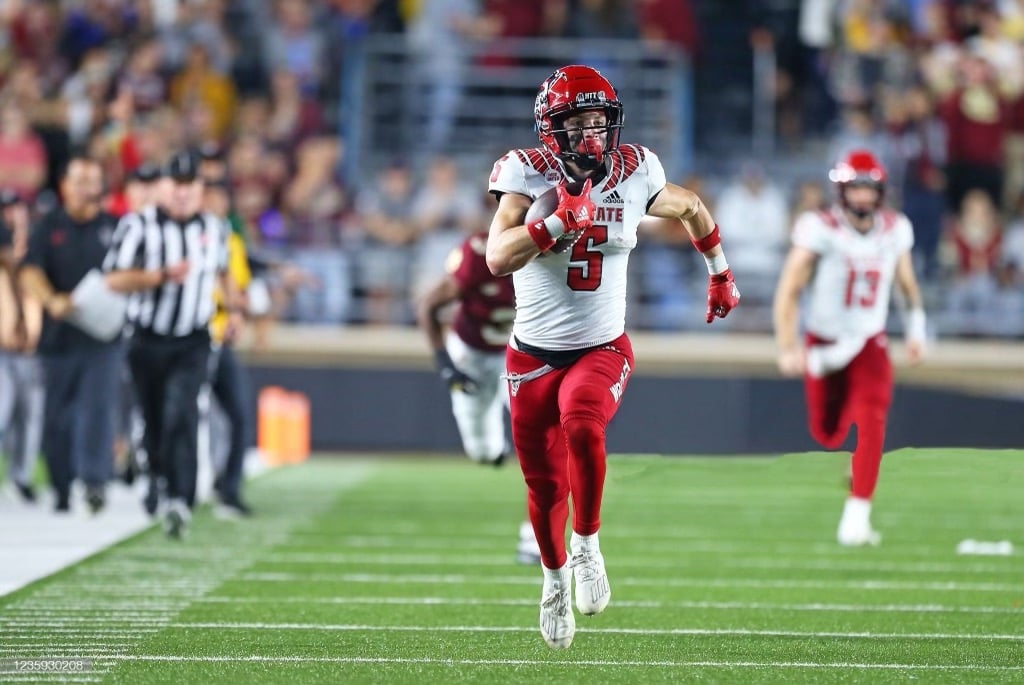 Simply put, Thayer is one of these people who just keeps winning. And he remembers where he came from. In fact, we met Thayer through lifelong friend, Heritage alumnus and all-around sports entrepreneur, Cameron Wells. Thayer's parents, Shelly and Trevor, have been described as pillars of the Wake Forest community. (Fun fact, Trevor also helped Marshall win its first ever Division I-AA national championship in 1992.)
Thayer was a three sport superstar at Heritage High. He chose to stay close to family and friends at NC State where he earned a scholarship and has played both football and baseball. (He was drafted by the Red Sox in 2019 and turned them down.) He graduated in three years and has continued his academic and football careers at NC State with graduate studies. He is an All-ACC punt returner and the leading receiver for the Wolfpack, with a fighting chance at securing the most career TD receptions in Wolfpack history. (His 75-yard masterpiece against UConn gave him sole possession of #2.) Thayer loves to train. He loves to learn. He gets better every year. He is a big part of why NC State has legitimate ACC and national championship aspirations this year. And he has helped make sure they will keep winning after he is gone by recruiting his brothers, first team All-ACC Junior linebacker Drake and Heritage High quarterback Lex, to join the Wolfpack as well.
Obviously, we are pretty gushy about this guy. He represents so much of what we respect (community, hard work, ambition and speed!). One of the first things we want to do is get the Thomas home hooked up with Ting Internet service. None of this works if Thayer and his family are not genuinely impressed with our service. We are working on bringing Thayer to a flag football event at Heritage this fall, where he can spend some time with local kids. And we have him lined up as a special guest on the Two Man Wolfpack podcast throughout the season. Again, more than logos. We want Thayer to do things he enjoys and cares about and we want to facilitate content and connections that benefit everyone.
It is a great start, with Thayer and with prospective athletes living in and hailing from Ting towns all over the country. We look forward to meeting more talented people, brainstorming more ways to partner and watching a lot more sports!