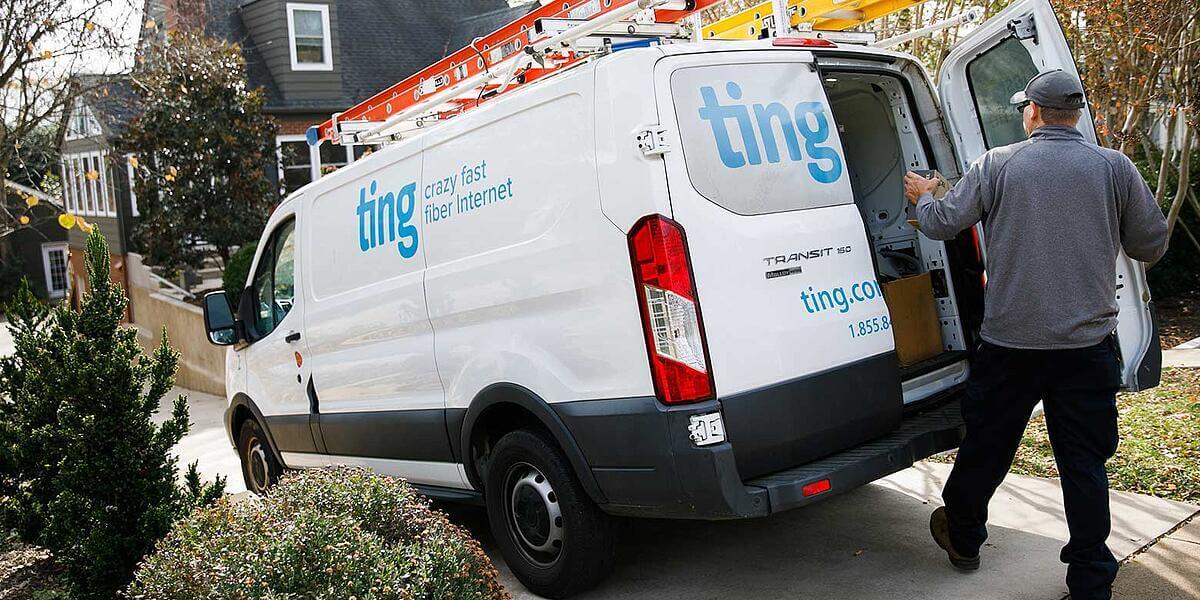 Tips & Tricks
What is Ting internet?
Reliable fiber internet for families, businesses, students and entrepreneurs to work, stream and play at the speed of light.
---
Hey there. We're Ting. You're in the right place if you want to know more about what we do.
We're an internet service provider that delivers fiber-optic internet to homes and businesses in cities across the U.S. Our lightning-fast internet is built with fiber optics and blows away old, slow, and unreliable copper internet connections. Fiber internet brings us up to speed. It's lightning fast, boringly reliable and future proof, so you can stay connected no matter what.
Along with making sure we deliver high-quality internet, Ting is built on customer service. We empower our teams with the tools and knowledge to help customers, and then we get out of their way so they can do it. Ting is also a part of Tucows (TCX), a company that's been doing more with the internet since 1994. Better said in our CEO Elliot Noss's words: "We believe in doing things differently and empowering the underdog. We're changing the industry because we're tired of business as usual too."
How is Ting fiber internet better?
Fiber is the fastest internet available today. With symmetrical upload and download speeds up to 1000 Mbps, Ting fiber internet provides you and your family the power to download, stream, video chat, listen to music, run home automation devices and much more. All devices stay connected at the same time—without any buffering, delay or lag.
How much does fiber internet cost?
Fair question. Ting fiber internet costs $89/month plus your start-up fees, but if you preorder Ting Internet we give you a hefty discount. That gets you unlimited monthly data with no caps or limits on what you use.
Since we started our fiber service in Charlottesville, we've never raised our prices. Ditto goes for all the towns that we're now available in. We don't do contracts or termination fees, which means no commitments. We also don't believe in any hidden fees whatsoever. We promote clarity and give people the info they need to make informed decisions.
Who is fiber internet for?
Ting fiber internet is for people who use the internet. That's most of us these days. When we go into a town, we do our best to wire entire neighborhoods and pass every residence along the way.
Ting is great for families, businesses, students, entrepreneurs and more. Ting is for people who want to future proof their homes. It's for people who work from home and need to move ideas quickly. It's for streamers who want to stream with no buffering and gamers who want to game with no lag. It's for communities that want to stay connected and for local businesses to thrive without stressing over unreliable internet.
Get started with fiber internet
Wondering if we've made it to your neighborhood yet? Ting's lightning-fast fiber internet is currently available in the following towns:
Alexandria, VA
Charlottesville, VA
Colorado Springs, CO
Culver City, CA
Encinitas, CA
Fullerton, CA
Fuquay-Varina, NC
Holly Springs, NC
Roaring Fork, CO
Rolesville, NC
Greater Denver, CO
Greater Sandpoint, ID
Sanford, NC
Solana Beach, CA
Wake Forest, NC
Westminster, MD
Looking to bring the benefits of fiber to your town? We're happy to help and want to hear from you.