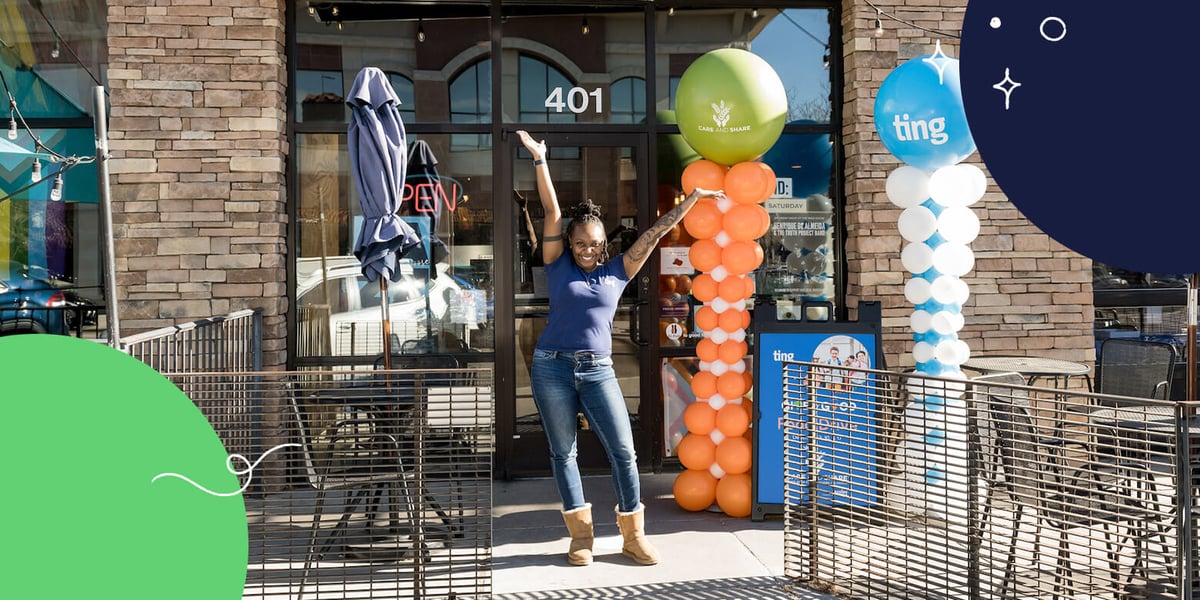 Local Stories
Celebrating Black-owned and -operated businesses in Ting Towns
This Black History Month, we're excited to share a round-up of some of our favorite Black-owned and -operated businesses across our Ting communities.
---
This Black History Month, we're excited to share a round-up of some of our favorite Black-owned and -operated businesses across our Ting communities. We invite you to join us in honoring the past, supporting the present and encouraging the future—plus don't sleep on all these great tips for seriously amazing goods and services near you.
North Carolina
Crumbstruction is a husband-and-wife food truck and catering team serving the Raleigh-Durham area! Their food is a beautiful and creative blend of flavors and influences. We highly recommend the mac 'n' cheese egg rolls.
Official Black Dollar is an online directory of Black-owned or operated businesses across North Carolina. In 2020, @blkfridaymarket, a department storefront in Downtown Raleigh, opened, allowing small business owners to sell their products commission free.
Penned By Kai, author of the children's series The Remix Kids, combines her 15+ years of experience in marketing and professional writing with her unwavering empathy for people to build an authentic brand and create custom content and inspirational design for other small businesses, entrepreneurs and organizations.
Westminster
Shop Cultivated is a boutique in Downtown Westminster with a heart for community. Every item is hand picked and curated with the customer in mind, and it shows.
Expanding Boundaries is an organization using STEAM education to promote practical and globalized learning approaches to prepare students for the globalized economy. Since 2014, they've provided 60,000 gigabits of internet across the world.
ShallBe Global Security, located in Westminster, is Maryland's leading security and private detective agency. Founded by Shelby Brown, a 12-year US Army veteran, ShallBe upholds their values of integrity, service and excellence by developing individualized programs to serve any security or investigative need.
SoCal
Looking for a new coffee blend? Look no further! Crowbeard Coffee is an online specialty coffee roasting company, serving fair trade and ethically sourced coffee beans with a passion for helping animals in need.
A staple in the Solana Beach community for nearly 30 years, Uptown New York Style Salon offers a unique combination of premium hair care and services to encourage you to "be as beautiful as you truly are."
Established in 1983 by Hamilton E. Sparks, The Serving Spoon has provided excellent food that's not only "Love At First Bite," but a place where customers feel like family in the community of Inglewood.
Alexandria
Based in Old Town Alexandria, Harambee Books and Artworks strives toward their mission of literacy education as a fundamental human right through providing quality resources, a unique selection of books, and hard-to-find classic literature by and about people of African descent. "Harambee" means "working together" in Swahili.
Rep your community while you get your reps in! Found Fit Alexandria has two studio locations in Alexandria and believes that your gym should inspire you to be the best version of yourself, inside and out.
Frolick Dogs is a family-owned and -operated canine sports club based in Alexandria, Virginia, providing a friendly, safe and positive environment where owners can bring their dogs year-round to keep fit, have fun, strengthen their bond and reinforce good behavior.
Charlottesville
Named for the founders' daughters, MarieBette Cafe is a charming Charlottesville cafe drawing culinary inspiration from around the world and right at home in Central Virginia.
Pearl Island Catering is a family-run business with the mission of making Caribbean cuisine more accessible. They also aim to help those in the Charlottesville community who may experience food insecurity through their "On Reserve" pay-it-forward program.
Black Cville strives to tell authentic Black stories in Cville to attract visitors and support Black-owned/run businesses and attractions. The Discover Black Cville "Passport" guides you to discover new culinary creations, one-of-a-kind gifts, and explore the art creations of talented local creators and artisans.
Colorado Springs
The Wild Goose Meeting House is a fun and funky cafe promoting community. They serve as an office, second home or "third space" for so many in the area and offer live music weekends, open mic nights and "The Nest," a large meeting room for private meetings or dining. We had a blast hosting our Give for Good event with them!
Formerly Pens & Needles Tattoos, Certified Tattoo is a team of artists dedicated to providing the safest, cleanest and best tattooing experience around. Their motto is "Anyone with skin is welcome here."
Coffee and ice cream or coffee-flavored ice cream? Why not both? Caffeinated Cow is a family- and veteran-owned business located in Colorado Springs, serving locally sourced coffee, ice cream and a fresh food menu with a smile.
Centennial
Jessie's Smokin NOLA >serves authentic, top-notch New Orleans cuisine. Located inside Max Taps in Centennial, Colorado, Jessie's Smokin NOLA is a must when you're looking to satisfy your Cajun/Creole food cravings.
The Donut is a fun and colorful donut shop selling classic, creative and seasonal donuts, all freshly baked each morning! Warm up this winter and stop in their Centennial, Colorado, location.
Arizona
Still looking for a Valentine's gift for your loved one? By Artemesia offers locally made, earth-friendly bath and body products inspired by the Sonoran Desert. "Every bar, every batch is an original formulation and a labor of love."
In 2012, two long-standing coalitions came together to create LPKNC, an organization that supports the South Tucson community and works to reduce alcohol and drug abuse in children and youth. Interested in supporting their mission? Visit lpknc.org for more.
The dentist can be scary. That's why we recommend Tuscon Smiles Pediatric Dentistry. Their teams specialize in providing outstanding service for infants, children, adolescents, young adults and children with special needs in the Tucson area. Their goal is to establish great oral health habits and a program of preventive dental care.