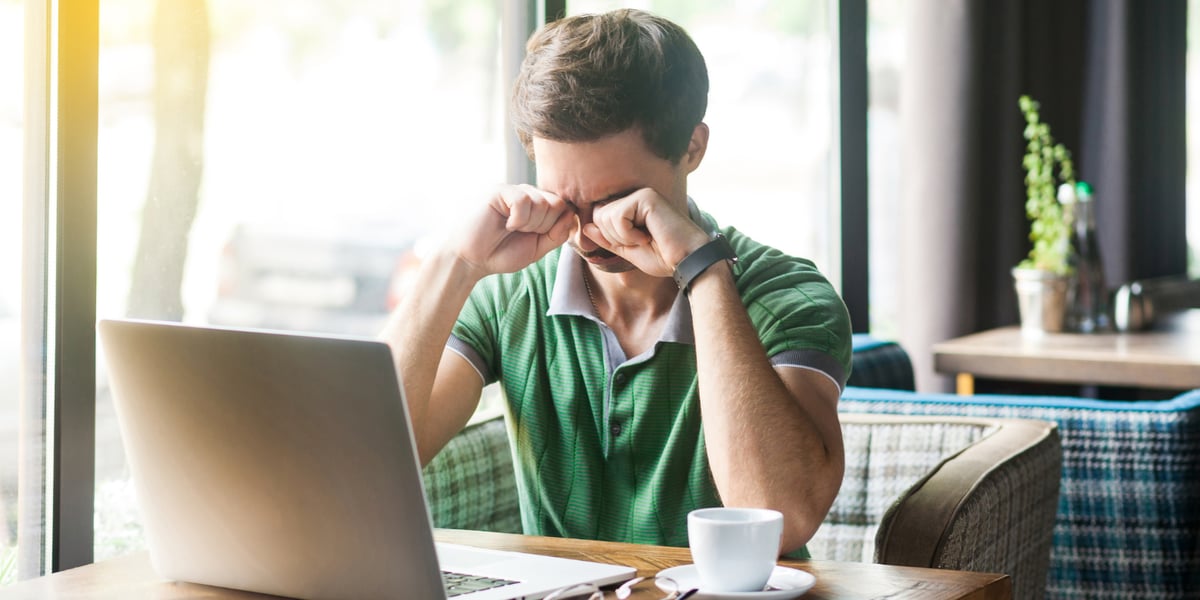 Explained
Competing with Confusion
Join our Chief Revenue Officer, Michael Goldstein, as he discusses the complexities of other internet service providers compared to Ting, digging into questionable claims, hidden fees and a general lack of transparency in the industry.
---
We just want a fair fight. We want you to take a look at Ting—our services, our reputation and our price—and compare us to your current internet service provider (and any other options out there) to decide what's best for you. On our part, we make that as easy as possible. Our competition is not cooperating. I just spent more than an hour of my life trying to do a simple price comparison between us and Xfinity (just because they are biggest and, according to the internet, baddest), and I don't know how you do it. And I am a telecommunications marketing professional!
Starting out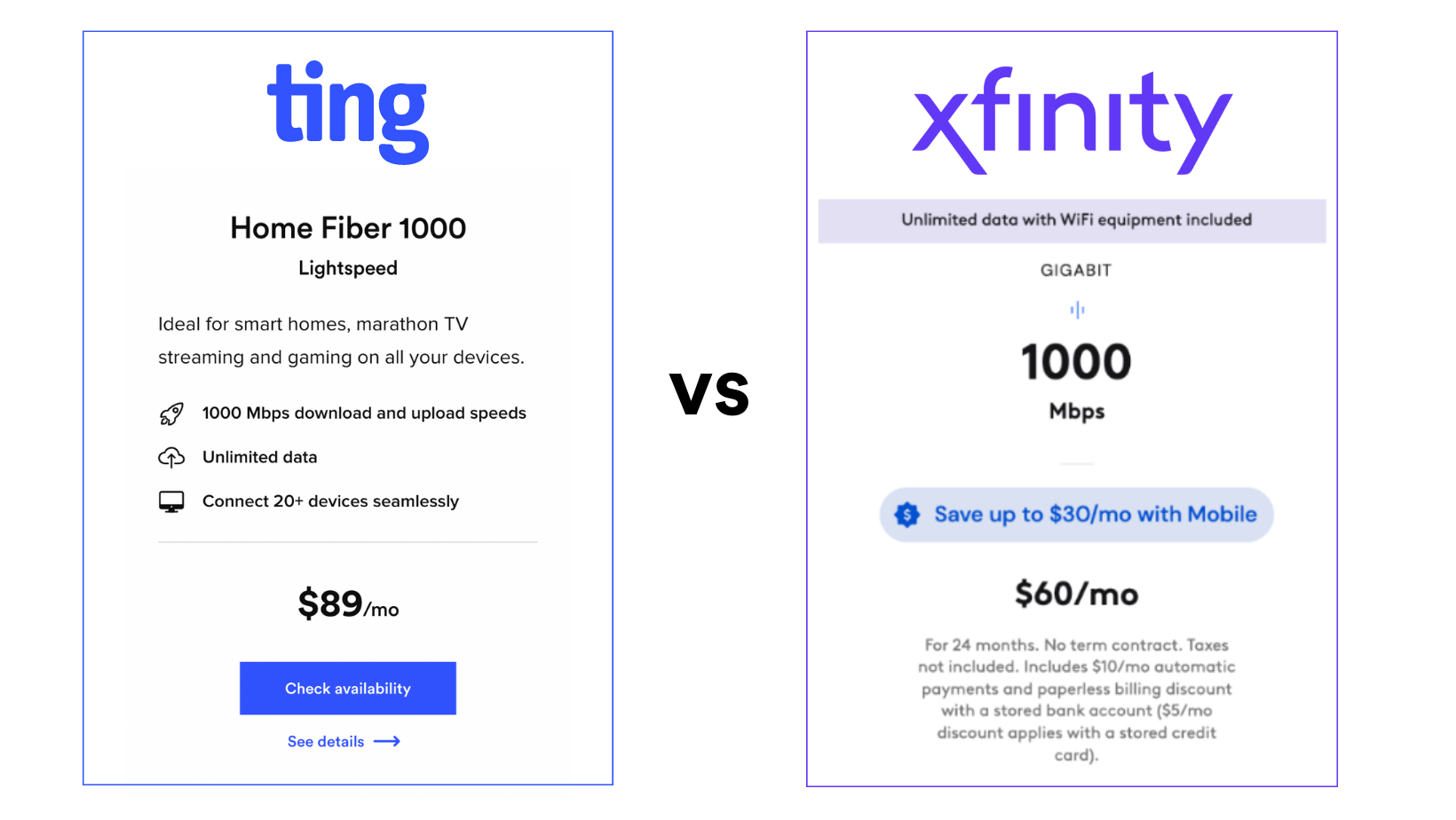 Note: I am not going to even get into the differences between fiber and cable. I won't question their upload speed or how reliable that 1,000 Mbps download can possibly be throughout the day or month. I won't get into how different the customer support experiences likely are. I won't get into how present each company is in your community. I will just try to figure out what the heck Xfinity costs!
OK, $60 a month for one gigabyte versus our $89. Game on. That looks pretty good. Also, "Unlimited data with Wi-Fi equipment included." Two questionable claims in one compelling sentence! (I'll explain.) Oh, but wait—that price is for 24 months. After much digging, I discovered the price would then go up to a standard price of $93. (There are some potential gotchas with autopay, paperless bills and a bank account where you could easily unintentionally find yourself paying $103, but I will assume you understand and are comfortable with all that.)

To be fair, a discount for a year or two is still money in your pocket. At the end of each promotional period, you could then jump to Ting or just threaten to jump to Ting and haggle for some special, secret pricing, and then you could do it again at the end of some other promotional period. A lot of this is about time, energy, clarity and trust. It is also about values.

Let's keep going.
Wi-Fi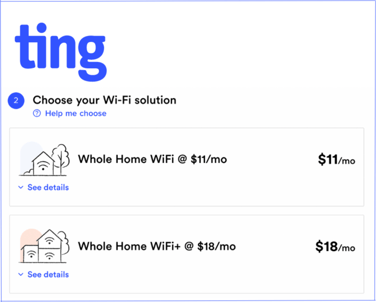 We both let you use your own router if you want. We both offer you our solutions. I will not compare the two. Ours is a wonderful eero Pro 6E that I have in my home. The $11/month option is good up to 2,400 square feet. I will assume theirs is wonderful too. And wait! It is indeed $0/month as they say. Ah, but wait some more! It goes up to $25/month after two years.
If you're keeping score at home, we have Ting at $100 versus Xfinity at $60 for two years and then $118 after that.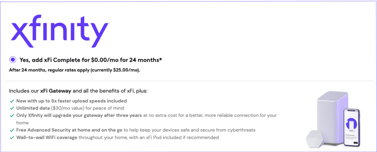 Let's talk mobile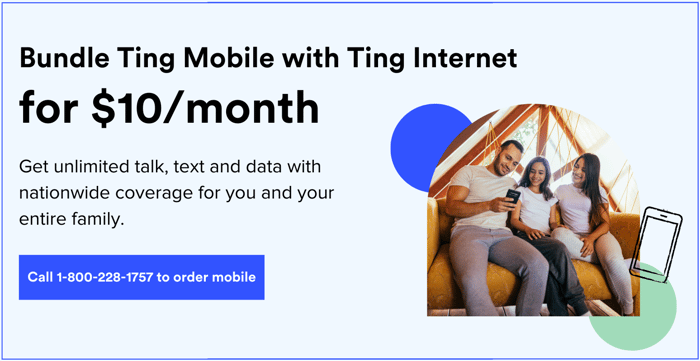 Ting's mobile offering makes math even simpler than our $100 fiber internet (which includes a Wi-Fi rental). It is $10/month unlimited for each phone, from your first phone to your second or fourth or fortieth. One phone plus internet service and a Wi-Fi router rental would cost you $110 to just bathe yourself in data anytime, anywhere on both the best fixed and mobile networks in the country. Two phones plus internet: $120. Four phones plus Internet: $140.

I think you've got it.
Confusion ramps up -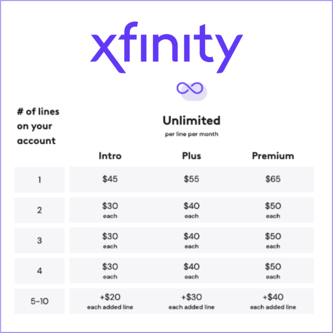 Now looking at Xfinity's mobile plan, getting at least one mobile line knocks $30 off the internet price. I think both the mobile prices and the $30 discount are forever. (I am really doing my best here.) You have a choice between three "unlimited" plans: Intro (unlimited), Plus (even more unlimited) and Premium (the most unlimited). I am not making this up, and revealing more detail would only make it more absurd.
Ours is, well, unlimited—any type of usage, any amount of usage—so it compares to the Premium. The first Premium line is $65 but knocks $30 off the promotional $60 and the standard $118 for internet and Wi-Fi above. So, internet plus Wi-Fi plus one phone is $95 for the first two years and $153 after that. Since the cost per line goes down to $50 after the first line, for a family of four, internet plus Wi-Fi plus four phone lines would be $230 for the first two years (versus our $140) and $288 after that (versus our $140).
Installation
Ting sends one of our delightful professionals to your house to get you set up and make sure you are completely satisfied for free. Xfinity gives you the self-install option for free. I had to go deep into their support documents to discover that, if you want a professional install, you can get that somehow, and it will cost you $89.
Hidden fees
Then, of course, there are the infamous hidden fees or junk fees or bogus fees.
My personal favorite from Xfinity is the Regulatory Cost Recovery fee, which seems to vary from bill to bill. According to them, "The Regulatory Cost Recovery fee is neither government mandated nor a tax, but is assessed by Comcast to recover certain federal, state and local regulatory costs."
Ting doesn't have them. We have the services shown at the prices we advertise. There might be clearly identified taxes or fees that we pass directly to the government. That's it.
Clearly, this is rare. POTs and PANs had a piece the other day about this that said, "The biggest surprise for many new customers is the Comcast (Xfinity) data cap on broadband. The company charges $10 for each 50 GB of data over the data cap limit." (I don't know when and where that happens; I am just sharing. But if even unlimited internet at home isn't quite unlimited, it gets pretty fraught.) The Washington Post detailed the ways across the industry that providers deliberately obfuscate what customers pay for their services and recommends calling your provider and threatening to quit as the best way to get the best prices. Forbes attempts to make sense of it all and also highlights installation fees, late payment fees and early cancellation fees. In fact, the White House is calling on Congress to pass a Junk Fee Prevention Act largely aimed at internet service providers.
Overall
The point here is not really that we are cheaper (we are) and better (we are!). The point is that, with Ting, you never have to worry about what you are paying for or be surprised by what you paid. You never have to find the time and summon the strength to negotiate with us. You won't have to argue or complain. You won't feel cheated or deceived. We are not a game that you can win or lose. You will get great service, you will like your service provider (or just not think about us at all, that's fine too), and you will spend your free time thinking about something else.

That has to be worth something.