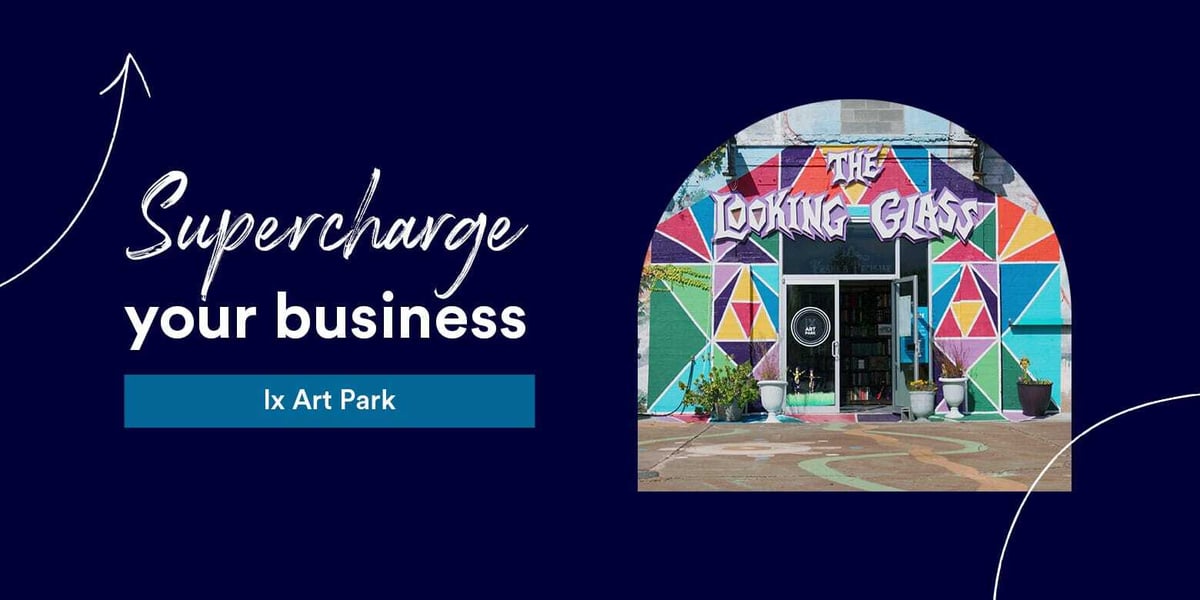 Hometown Heroes: Q&A with Ix Art Park in Charlottesville, VA
Read our Q&A with Ix Art Park to find out what their experience has been like since switching to Ting Business Fiber.
---
While residential Ting Internet provides homes with an incredibly powerful internet connection, we know that entrepreneurs committed to growing their businesses need certain tools and extra support. That's why we offer Business Fiber Internet with features like static IPs, 24/7 customer support and uptime/bandwidth availability guarantees.1
Small businesses are the backbone of towns and cities throughout the nation. It's been amazing to hear some of the unique stories behind the incredible businesses we've had the pleasure of getting to know in each Ting town. That's why we're excited to share some of those stories and find out what their experience has been like since switching to Ting Business Fiber!
---
Customer since: 2017
Director of Curation: Kathryn Wingate
Can you tell us a little bit about the history of Ix Art Park?
Sure. The Ix Art Park property and building used to be a textile factory. It employed a lot of people that lived in Charlottesville at the time. Sadly, after they closed their doors, it sat for a long time in disarray and just kind of took up space. It was finally bought by a person who was very interested in art and community and wanted to turn it into a free park—a park where people could enjoy art and be inspired by interesting sculptures and murals, and a place where members of the community could gather and do events and make art great.
What got you interested in art, and how did you get involved?
Well, I've always been interested in art. I've always made art ever since I can remember. I used to wake up at three in the morning as a kid and go downstairs with an idea and just build it out of paper I found in the trash or whatever was available. So it's always been something I've done, in terms of having ideas and wanting to build things. I went to art school for illustration because, to me, that made sense as a way to make money using a creative outlet. But I swiftly learned that I was more interested in painting. Then I worked in fashion for a little bit. I've done some marketing stuff. I did a little bit of illustration here and there. I painted people's kids and dogs, but my true passions lie with oil painting, mostly figurative and surrealism and sculptural work, which is something I didn't even know I was interested in until I started working here. And I had the opportunity to kind of play and try new materials and media, the result of which is a lot of my pieces here in the Looking Glass Museum, like the Cave and the Treehouse.
How did the Looking Glass Museum come to be?
So half of the museum already existed when I started working here. But from what I've heard, the initial concept was that it was going to be an enchanted forest. And they brought together, I believe, 12 artists all from Virginia. They put their heads together and imagined what an enchanted forest would look like in the space. And each one of them drew out ideas. They kind of meshed it all together, and they picked the things they liked, and they got rid of the things they didn't. And it became what it is today. It was led by John Owen, who was the lead artist at the time.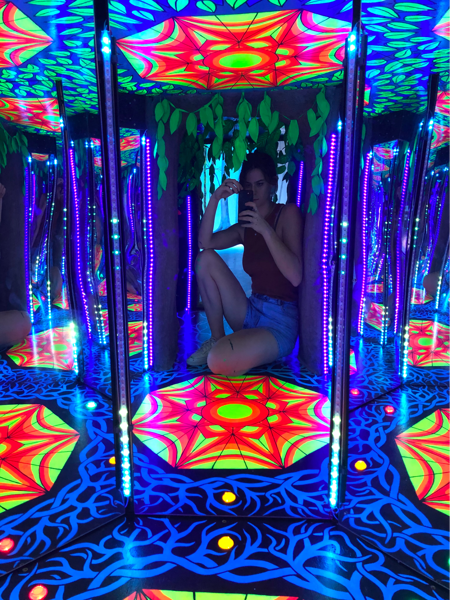 Credit: KathrynWingate.com
Tell us a little bit about the Treehouse. What was your inspiration behind it?
The Treehouse was kind of my answer to a big empty space that was right here where I'm sitting. When you entered the space, it was just empty, and there was no focal point. I've always loved building. It's something I've always done my entire life. So, for me, it made perfect sense that there'd be a treehouse here. The Treehouse tells the story of a traveler who came to the Looking Glass world at some point and explored the space, then left behind some clues of what he found for the next traveler to find. So, in the Treehouse, there's a magic map that reveals itself. When you turn a key, there's a little box of scrolls and illustrations of things that he found in the forest. It's kind of like little clues helping you figure out where they are in the museum.
"A lot of the stuff I was doing I had never done before…Without the internet, I wouldn't have been able to figure out how to do any of those things."
And what about the Cave?
The Cave was my biggest project when the pandemic hit. There was no art in the former event space, so I designed what I thought made sense in there, which was to make it subterranean. It always felt like it was underground. It always felt like this dark, cramped, kind of cool, spooky space. And so I did some drawings of what I imagined it would look like as a cave, proposed them to our board and to the owner of the building, and they went for it! We built it in 2020—it took nine months. It is what it is today thanks to a lot of people that put their hands on it and helped. Joe Vena, who is the director of programs, did a lot of the creatures in there, a lot of the flora and fauna, and some of the intricate carving work. I did most of the main carving, cementing and painting. We had a lot of help from UVA interns and students who came and helped, plus other volunteers who were kind enough to lend some time.
What makes Charlottesville the great place for arts?
Charlottesville is definitely very inclusive of the arts. There's a lot of opportunities for people to make art here without having to be an established artist. I think that's what's so cool about [Ix Art Park] in general too: Anyone can just come make art here. You don't have to be an "actual" artist. Everyone is an artist in our eyes, and that's something that's very important to us. And I think that applies to a lot of other arts organizations in Charlottesville. They want community members to feel like they are artists and souls and that their view and their creativity is equally as important as any other artist.
Why is it important for Ix Art Park to have great internet?
Great internet here is really important. When I was making the Treehouse and The cave, a lot of the stuff I was doing I had never done before. So a lot of learning [was] involved in eventually being able to use those materials—a lot of YouTubing! Without the internet, I wouldn't have been able to figure out how to do any of those things. I wouldn't have learned how to cut foam, how to apply cement, how to solder things. All of that was powered by the internet. A lot of the technology in the Looking Glass in general wouldn't be possible without fast internet. Also, Ting allows us to [reliably] stream music while we work. That's really important to a lot of artists: to have music that's inspiring the work while we're creating. It powers our summer camps. And of course it powers a lot of our social media content and digital content in general that we make and share at events like Ix Movie Nights.
That's great. Have you ever had to call customer service?
No, definitely not! We've never had any issues with Ting Internet.
Last question: How can people support Ix Art Park and the Looking Glass Museum?
Thanks for asking that. We are a nonprofit, and to make things happen here—like our programming or art making, to allow us to keep employing artists, to make awesome stuff that can be seen by our community—we rely on donations. You can donate on our page. There's a donate button on the top of our website, ixartpark.org. You can donate there and help make more magical things happen here at Ix Park!
Awesome. Thanks so much!
Thank you!
---
This is just one of many stories we hear from our customers about how Ting Internet has made their business more competitive, efficient and easy to manage. Ready to supercharge your business? Get started today!
1. Uptime and bandwidth availability guarantees available with Enterprise Fiber package only.