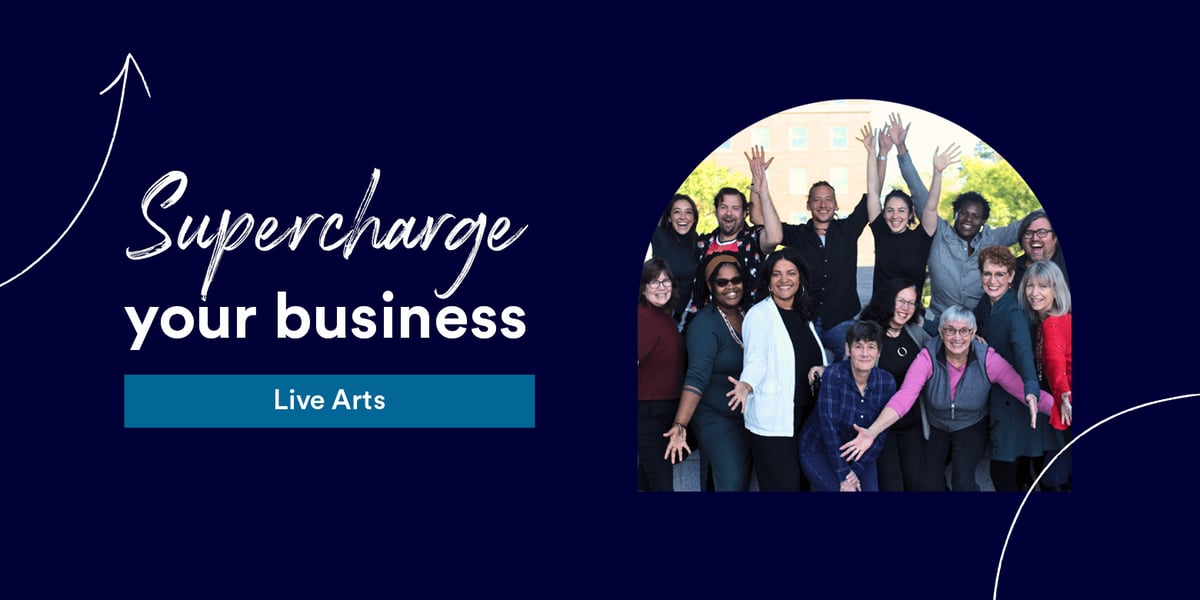 Hometown Heroes: Q&A with Live Arts in Charlottesville, VA
Read our Q&A with Live Arts to find out what their experience has been like since switching to Ting Business Fiber.
---
While residential Ting Internet provides homes with an incredibly powerful internet connection, we know that entrepreneurs committed to growing their businesses need certain tools and extra support. That's why we offer Business Fiber Internet with features like static IPs, 24/7 customer support and uptime/bandwidth availability guarantees.1
Small businesses are the backbone of towns and cities throughout the nation. It's been amazing to hear some of the unique stories behind the incredible businesses we've had the pleasure of getting to know in each Ting town. That's why we're excited to share some of those stories and find out what their experience has been like since switching to Ting Business Fiber!
---
Customer for: 7+ years
Executive Director: Anne Hunter
Can you give us a brief history of the business?
Live Arts was started in 1990 by a group of artist friends. One wanted to do live theater, one wanted to do raves, [and] one wanted to do dance parties. They all got together in another space called the Michie Building. At first, they funded all of their work with beer sales! Since then, we have evolved into a year-round theater company with a full education program and a full season of plays and musicals. This year, [we had] our very first Waterworks New Works Festival, building on a longtime legacy of celebrating new works that the founders had as their original vision.
Why is great internet like Ting important to Live Arts?
So even though we do live theater, we have to have good technology. Everyone in the building, including our hundreds of volunteers, our staff, our board who come in for meetings and the audience expects that we will have great internet. Ting has provided provided that to us. We also have an auxiliary location where we do rehearsals, and that space is powered by Ting as well. For the first time this year, we had yet another space—that one didn't have internet access. It was probably the number one complaint we heard about. Now that space has Ting as well, and people are very happy.
Have you ever called customer support?
You know, I have never called customer service because the internet is almost never down. So I don't even have a number!
How is Ting as a community partner?
As a community partner, Ting has been just awesome. They are the sponsor of our Pay What You Can program, which enables anyone from any background to come and see great theater without having finances be an obstacle. It's a program that we've been running for 26 years, and Ting has been involved with it, underwriting it, for the last several years. [It's a] wonderful partnership. They even do things like come into the theater on a play night [and] provide complimentary drinks to the audience, just as a gift to the arts in Charlottesville. It's just awesome.
"We opened a new space, and at first, it didn't have Ting. It was probably the number one complaint we heard. Now that space has Ting as well, and people are very happy!"
Why do you think Charlottesville and art work so well together?
Charlottesville is a wonderful destination for arts. In fact, [arts research organization] SMU DataArts named Charlottesville one of the most vibrant arts destinations for a mid-sized city in the country a couple of years ago. It's not just that we love the recognition, but it recognizes that we have amazing theater, visual arts, music, and the UVA and its arts center, which is now expanding. That's one of the reasons that people come to Charlottesville, and it's one of the reasons people stay in Charlottesville.
Thanks so much for your time!
Thank you!
---
---
This is just one of many stories we hear from our customers about how Ting Internet has made their business more competitive, efficient and easy to manage. Ready to supercharge your business? Get started today!
1. Uptime and bandwidth availability guarantees available with Enterprise Fiber package only.