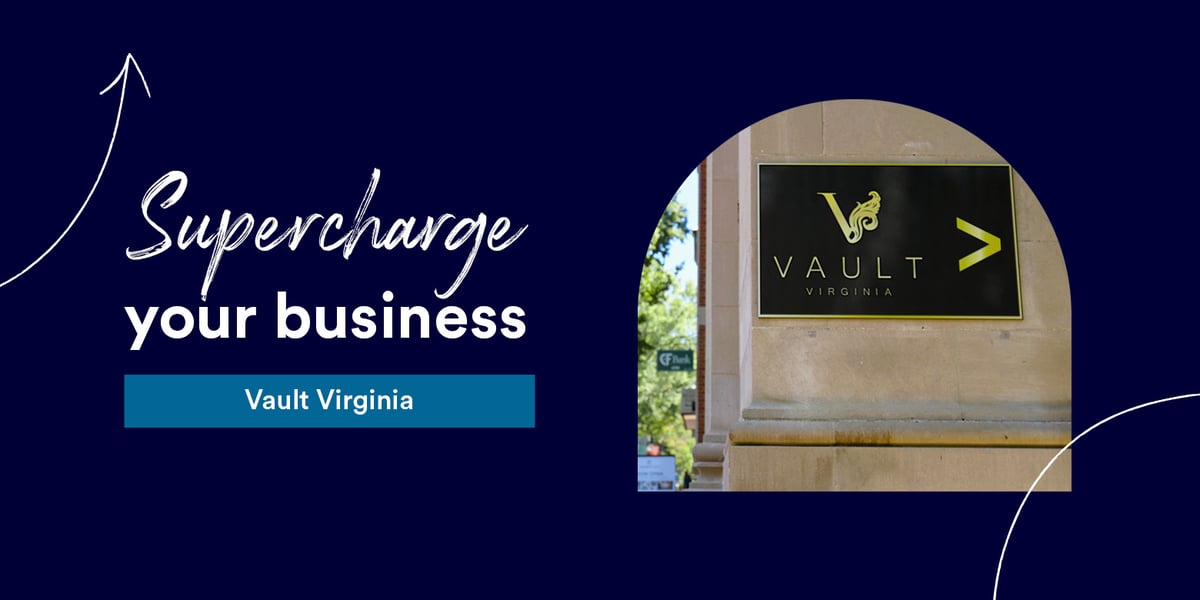 Hometown Heroes: Q&A with Vault Virginia in Charlottesville, VA
Read our Q&A with Vault Virginia to find out what their experience has been like since switching to Ting Business Fiber.
---
While residential Ting Internet provides homes with an incredibly powerful internet connection, we know that entrepreneurs committed to growing their businesses need certain tools and extra support. That's why we offer Business Fiber Internet with features like static IPs, 24/7 customer support and uptime/bandwidth availability guarantees.1
Small businesses are the backbone of towns and cities throughout the nation. It's been amazing to hear some of the unique stories behind the incredible businesses we've had the pleasure of getting to know in each Ting town. That's why we're excited to share some of those stories and find out what their experience has been like since switching to Ting Business Fiber!
---
Customer since: 2015
Owner/Founder: James Barton
Can you give us a brief history of Vault?
[The very beginning of the concept came] in 2008 when I took a trip to Buenos Aires and [met my first] digital nomad. He was a guy from the U.K. living in Buenos Aires and working for a company as a software developer. He could be anywhere he wanted to be as long as he had an internet connection and a laptop—it was a lightbulb moment for me. I realized that that was going to be more and more common. When I moved to Charlottesville, I found that there wasn't a workspace for the modern professional. We didn't have a shared workspace [with] co-working and flexible real estate to match our lives the way we were living—as digital nomads and freelancers. So I started Studio Six in order to meet that need. And a few years later, when the bank left this building, I started Vault Virginia to expand on that and offer more of that for Charlottesville.
What makes Charlottesville a great place to start a business?
Charlottesville is a great place to start a business because it's dynamic enough to support some new things, but it's also not so big that it's impossible for someone to get started.
What was your online experience like before you switched to Ting Internet?
It's been a pretty long time since I wasn't a Ting customer! But I do remember what it was like from a residential customer's perspective. The previous provider just didn't have [good] customer service. The phone tree was unlimited. So that was the biggest problem that I had with them. [In contrast], Ting's service is just remarkably good, and if there is ever a need, the customer service is super friendly and always responsive. It's kind of like calling a local person or a friend, to be honest with you!
"If you've got a problem with Ting, it's because you don't have Ting yet!"
So what made you switch?
My switch to Ting probably started with being unhappy with [my previous provider's] prices, the add-ons that affect that price, not wanting to have internet and cable television all bundled—that sort of thing. I just wanted good internet. When I couldn't easily make any changes to my plan and couldn't reach anybody, the next step was just to pull the plug.
So why is having great internet important to your business?
Having great internet in a co-working space or workplace in general today is so much more important than I think it ever has been. The amount of Zooming that's going on or other video conference calling—you can't do that without really high-speed internet. And Ting delivers; it's extremely fast. You know, we pretty much use Wi-Fi exclusively in this building, and we can all do our video calls at the same time without issue!
In your eyes, is Ting a good community partner?
Ting is an incredible community partner in all sorts of ways. We've partnered with Ting through the Friends of Ting program. We've had organizations that we collaborate with partner up with Ting [and do some] co-marketing. Ting is just really thoughtful about how they engage with the community and the ways that they make the internet relevant to people's lives outside of what you might typically consider. Ting really does work hard to [help people] connect around things that are related to the internet but are also just human.
Maybe the most recent partnership we had with Ting was a gaming expo that we did during [the] Tom Tom [Festival]. It was great. A whole bunch of gaming systems were brought in, and it really demonstrated how much capacity this space [and Ting Internet] has for running simultaneous high-use internet programs.
Can you tell us about encounters you've had with people coming into Vault Virginia looking for Ting?
So Ting has their management offices here in Vault Virginia. Sometimes people will come in looking for a Ting representative [mistakenly thinking it's a retail outlet]. And almost without fail, the gripe that they have is that Ting is not yet in their neighborhood. And I do joke with people [that] if you've got a problem with Ting, it's because you don't have Ting yet!
That's amazing. Thanks so much for your time!
---
This is just one of many stories we hear from our customers about how Ting Internet has made their business more competitive, efficient and easy to manage. Ready to supercharge your business? Get started today!
1. Uptime and bandwidth availability guarantees available with Enterprise Fiber package only.