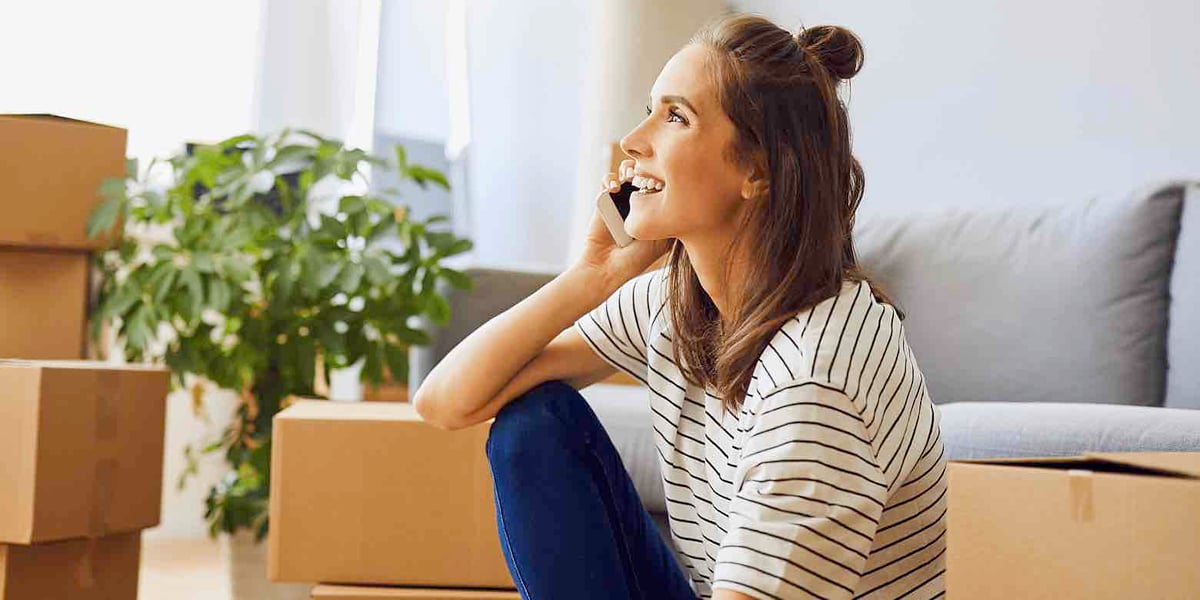 Featured
What is fiber internet and should you get it for your new home?
What is fiber internet? It's the fastest, most reliable internet around. Moving is the perfect opportunity to see if fiber internet is available to you.
---
It wasn't that long ago, in the dial-up internet days, that you could go make a cup of tea while you waited for a website to load. While you were online, your landline phone (remember those?) would be tied up. Fast forward a couple of decades to today when, with fiber internet access, you can download a high-definition movie in seconds.
Fiber offers lightning-fast internet speeds but it's not available everywhere. If you're moving into an area where fiber is available, it's definitely worth the upgrade. Here are just a few reasons why.
What is fiber internet?
Fiber is the latest innovation for people who want fast internet speeds with no lag. The fiber in fiber internet refers to fiber-optic—glass strands that transmit data with light instead of electrical pulses. Fiber is significantly faster and more efficient than the copper wires used in DSL or coaxial cable internet connections.
So, is fiber internet better? The short answer is yes.
Because fiber can transmit data faster and more accurately over long distances, it offers faster download and upload speeds which translate to streaming without buffering, video calls in high definition, gaming without lag and much more. With fiber, you won't experience any slow-down during peak usage periods—a common complaint with other internet access options.
Here's a real-life example to put things in perspective: Fiber delivers download speeds of up to one gigabit per second (1 Gbps or 1000 Mbps). With a gigabit fiber connection, you can download a two-hour HD movie in around 40 seconds. The same download would take more than 25 minutes on a 25 Mbps connection, which is how the FCC defines "broadband" today.
And that's just HD video. With higher resolution video including 4K, fiber allows you to start watching immediately and never has to stop to buffer.
One day in the not too distant future, we'll look back at old copper internet options like DSL and cable internet with the same "remember when?" energy with which we look at dial-up today.
Five benefits of switching to fiber internet after a move
Whether you're moving down the street or across the country, you're going to need internet access in your new home. If fiber is available, it's the perfect time to upgrade. If the unbeatable internet speeds aren't enough to convince you, here are several additional benefits of switching to fiber when you move.
1. It's often a better value
Fiber internet was once extremely expensive but as more infrastructure has been installed, the cost has become much more reasonable. In fact, you can often get fiber for just $10 or $20 more per month than you'd pay for a broadband cable connection. Given that fiber is so much faster and more reliable, it's safe to say that fiber is the better value.
2. It's ideal if you're working from home
With remote work a reality for more and more people, a top-of-the-line internet connection is key to staying productive and video conferencing without interruptions or lag. After all, the last thing you want is for your internet connection to fail in the middle of an important presentation to your boss.
3. You can save money by ditching traditional cable
Cable TV packages are extremely expensive. When you have fiber internet you'll be able to ditch the cable company for good. Upgrading to streaming TV lets you watch cable TV channels for less and without the cable contract. Watch all your favorite shows live using apps like YouTube TV, Hulu + Live, or Sling TV.
These services offer a wide range of popular channels and all the programming they carry. That includes prime-time TV, news and sports. Streaming TV services include the same on-screen guides you're used to, they let you record shows (DVR) and let you "channel surf" at lightning speed thanks to your super-fast internet connection.
4. It offers room to grow
Are you planning to install a smart security camera or video doorbell at your new place? Smart home tech works best when it's supported by a fast, reliable fiber internet connection.
The more devices you connect to your network, the higher the bandwidth demand. If your internet connection isn't up to the task, everything on your network battles for position and things slow down. For people with several internet-connected devices, fiber internet keeps everything running smoothly without interruptions.
5. It's future-proof
OK, nothing is entirely future-proof but fiber can meet all of today's internet needs with ease and has room to grow to meet whatever's next.
So what is fiber internet? It's the future of the internet and a worthwhile upgrade for your new home.
See if Ting Internet is available in your new neighborhood, and if it's not, let us know where you'd like to see it next.