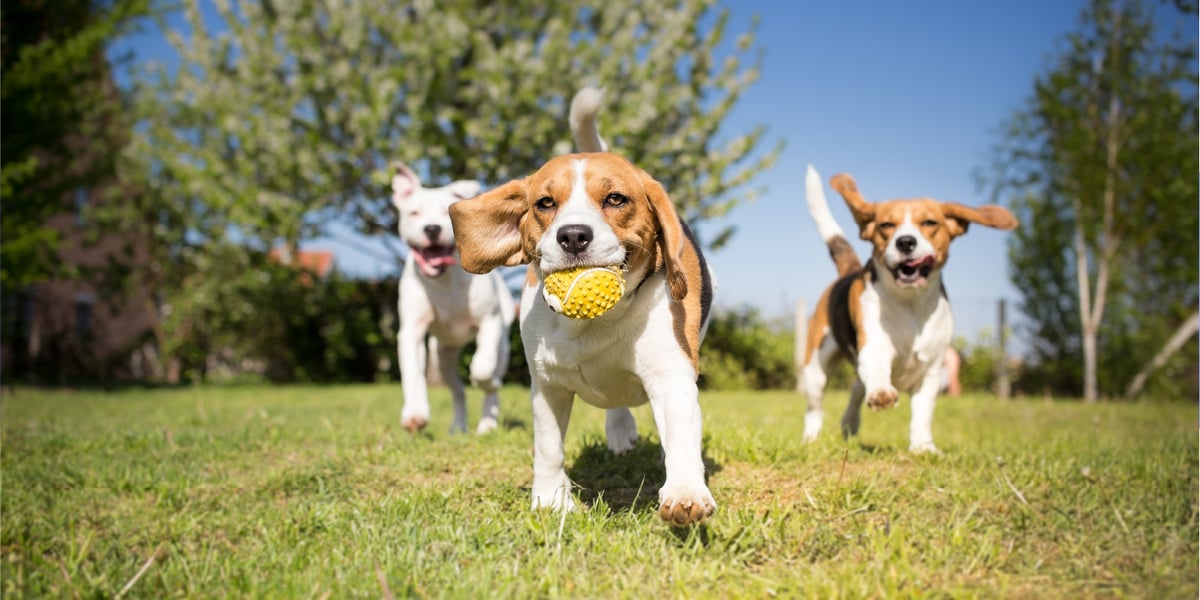 Featured
The best dog walks and parks in Ting towns
One of the best things to do during the dog days of summer spending some outdoor time with your pup. Time for some fun in the sun with your perfect match!
---
Charlottesville
503 Thomas Jefferson Pkwy, Charlottesville, VA 22902
(Trail entrance at Kemper Park)
With native hardwood forest, deep ravines and spectacular views of the Blue Ridge Mountains, this trail winds its way to Monticello and back. Enjoy seven miles of rustic, pet-friendly trails!
1909 Chesapeake St, Charlottesville, VA 22902
Located at the end of Chesapeake Street at the eastern city limits, this 26.6 acre park borders the river. The adjacent Rivanna Trail features designated areas where dogs are allowed to be off-leash on certain days of the week.
304 Old Lynchburg Rd, Charlottesville, VA 22902
Azalea Park consists of 23 acres which include trees and and other natural buffers which separate the park from neighborhood homes, as well as Moore's Creek which winds its way along the entire length of the park. Dogs must be on-leash in the larger Park, but a fenced-in area is provided for off-leash dog activities.
Alexandria
4800 Brenman Park Dr, Alexandria, VA 22304
The Ben Brenman Dog Park is a fenced and well-lit park for your furry friend to get out their zoomies! Part of the beautiful Ben Brenman park featuring athletic fields, a picnic pavilion and more, it's open from sunrise to sunset.
Jones Point Dr, Alexandria, VA 23242
This historic park retains a rustic feel with its exhibits, fishing piers and lighthouse built in 1855. The gravel trail and green spaces are wonderful places to walk your best friend, but be aware there are no off-leash areas.
750 Sanger Ave, Alexandria, VA 22311
The Dora Kelley Nature Park & Wildlife Sanctuary presently encompasses 50 acres of oak-hickory forest, stream valley floodplain, and freshwater marsh. The self-guided nature trail that meanders through the park makes for a memorable experience every time.
Check out more dog parks in your area: https://media.alexandriava.gov/docs-archives/recreation/info/dogparkguide.pdf
Westminster
544 Manchester Road, Westminster, MD 21157
Bennett Cerf Dog park is a community-funded dog park that opened in 2013. To cover expenses, there is a small membership fee per dog. With beautiful spaces and amenities adjacent to the fenced of dog areas, it's a great spot for both you and your pup to enjoy.
9500 Dolfield Rd, Owings Mills, MD 21117
Birding, hiking, and biking are all enjoyed here but once you keep the pups on a leash, they're welcome as well!
The Bethesda Trolley Trail, Bethesda, MD 20814
Repurposed from a historic streetcar right-of-way, this nearly 6-mile-long urban trail passes through a variety of surroundings, keeping you and your cute buddy from ever getting bored on this walk.
North Carolina
4601 Avent Ferry Rd, Raleigh, NC 27606
Central to our North Carolina Ting towns, Lake Johnson Park includes a 5-mile, partially paved path that circles Lake Johnson. Situated southwest of the state's capital of Raleigh, this is a popular destination for fishing, seasonal boat rentals, indoor and outdoor facility rentals, and of course getting some fresh air with your furry friend(s)!
900 Bass Lake Rd, Holly Springs, NC 27540
This gorgeous park boasts a 54-acre lake, greenway trails, a picnic shelter—and yes, a dedicated dog park.
600 Bikram Dr, Holly Springs, NC 27540
A less sprawling option, this beloved park features a veteran's memorial, fitness stations and a playground for the little ones. No dog park, so this is more suited for a picturesque walk as opposed to playtime.
Greater Denver
13050 E Peakview Ave, Centennial, CO 80111
Centennial Center Park is an award-winning, 11-acre park that features various historical and educational elements in addition to paved and rustic trails for biking, hiking, and (you guessed it) walking your dog!
Lone Tree, CO 80124
Stunning views of the Colorado mountains and DC metro area alone make Bluffs Regional Park a worthy destination. Bonus - in addition to its own trails, it to numerous other trial systems should you and your four-legged companion want to extend the outing.
9200 E Orchard Rd, Greenwood Village, CO 80111
Got a sporty partner or family member? Tommy Davis park can offer a great two-fer at dog walk time with its basketball and beach volleyball courts, multi-use playing field and hiking/biking trail.
Sandpoint
Trailhead for Pend d'Oreille Bay Trail
Pend d'Oreille Bay Trail, Ponderay, ID 83852
This trail follows a natural waterfront that extends to Black Rock. Connecting the communities of Kootenai and Ponderay, it creates a stunning 2-mile trail for everyone to enjoy!
870 Kootenai Cutoff Rd, Ponderay, ID 83852
The country's first fully ADA (Americans with Disabilities Act)-compliant dog park, this excellently-appointed dog park is designed to be inviting to all dogs and humans.
812 Hickory Street, Sandpoint, ID 83864
For over a decade, this previously hoomans-only green space has invited owners to bring their furry friends along (once they're on-leash and picked up after). Make sure to take advantage!
SoCal
1298 S Coast Hwy 101, Encinitas, CA 92024
When complete, the Coastal Rail Trail will run 44 miles from Oceanside to San Diego along the Coaster commuter rail. For now, you and your furry friend can enjoy the 1.3 miles added in 2019 between Encinitas and Cardiff-by -the-Sea. Don't forget a leash!
5950 Stoneview Dr, Culver City, CA 90232
Stoneview Nature Center is an urban sanctuary nestled in the Blair Hills of Culver City, boasting scenic views of the Los Angeles basin from the Santa Monica Mountains to the Hollywood Hills. The center is a key component of the Park to Playa Trail—a planned corridor that will connect state, county and city parks into a recreational trail from Playa Del Rey to Baldwin Hills.
Maggie Houlihan Memorial Dog Park
335 Santa Fe Dr, Encinitas, CA 92007
This two-acre dog park is one of the best designed in Encinitas. Not just a visual treat, features like separated fenced areas for large, small and not-yet-socialized dogs make sure it's an enjoyable and safe place for all pooches. Open 8am to sunset.
1679 Mountain Vista Drive, Encinitas CA, 92094
Running from Encinitas Blvd. to Mountain Vista Dr, this is a great off-leash trail walk. Be aware that some parts of the trail are not fenced in, so if your dog isn't under strict voice control you may want to familiarize yourself with the trail's fencing before going off-leash.
Kenneth Hahn State Recreation Area
4100 S La Cienega Blvd, Los Angeles, CA 90056
Even if it's within driving distance moreso than walking, occasional trips to Kenneth Hahn SRA are highly recommended. With multiple playgrounds, two baseball diamonds, a sand volleyball and half basketball court, and seven miles of trail, this is a great outdoor escape for the whole family. Note that dogs are allowed on the paved road but not on the trails.
Stocker St & Presidio Dr, Los Angeles, CA 90008
Part of the revered Park to Playa trail, this 2.8-mile out-and-back trail is considered an easy trek. Leashed dogs are welcome and plentiful, so if your little (or big) guy (or girl) is craving social time, and you'd prefer a picturesque walk to a dog park sit, it's worth checking out.