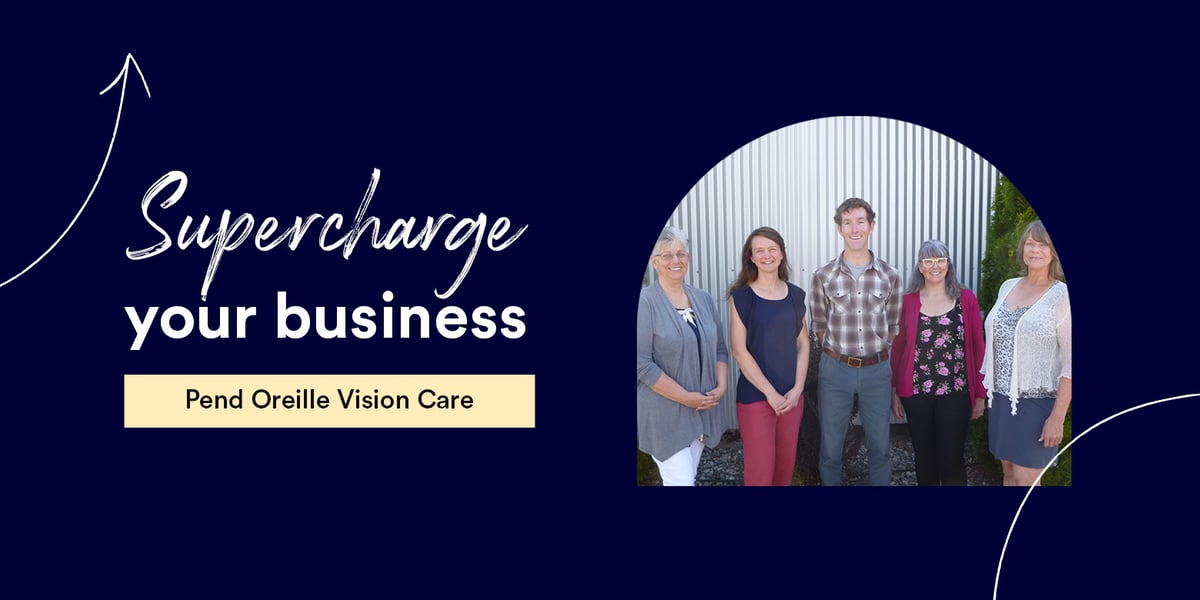 Hometown Heroes: Q&A with Pend Orielle Vision Care in Sandpoint, ID
Read our Q&A with Pend Orielle Vision Care to find out what their experience has been like since switching to Ting Business Fiber.
---
While residential Ting Internet provides homes with an incredibly powerful internet connection, we know that entrepreneurs committed to growing their businesses need certain tools and extra support. That's why we offer Business Fiber Internet with features like static IPs, 24/7 customer support and uptime/bandwidth availability guarantees.1
Small businesses are the backbone of towns and cities throughout the nation. It's been amazing to hear some of the unique stories behind the incredible businesses we've had the pleasure of getting to know in each Ting town. That's why we're excited to share some of those stories and find out what their experience has been like since switching to Ting Business Fiber!
---
Customer since: 2019
Manager: Jennifer Heller
Give us a short history of your business.
Pend Oreille Vision Care was founded in 2010 when Dr. Nate Harrell moved to Sandpoint straight out of school and took a gamble. He lived in the back of his office for the first few years—sleeping on an air mattress and eating off a hot plate—to make the dream happen. Over the years, we've expanded to offer satellite services in Bonners Ferry and Priest River. With many eyes seen and lots of vision preserved, our goal remains the same: to serve our local neighbors. (We just happen to also have fun doing our jobs.)
What makes our community a great place to start a business?
Lots of regional growth, great bankers, good infrastructure, and lots of nice people.
How did you hear about Ting?
Jen (our Business Manager) had been a long-time customer of Ting's phone services. However, I believe we first heard about Ting's local internet services through local advertising and door hangers.
Why is it important for your business to have fast, reliable internet service?
We use a cloud-based electronic health record system, so we have to be uploading and downloading files of various types and sizes constantly. We also need near-instant reaction and processing times on files, so that a person on one end of the office can be working on a different part of the same record as someone on the other end. Having reliable high-speed internet has made us realize how few of the issues we had previously were software related and were instead due to connectivity issues.
What was your internet experience like before Ting?
Not great. Mostly consistent, but with way more frequent outages. Also, customer service was the worst. As in…worse than the IRS.
How has your experience been since switching to Ting?
Fairly smooth! Initial setup and conversion was possibly a little more difficult, but that was self-induced, since we took the opportunity to also switch to a VoIP phone/fax system at the same time. We haven't regretted the move to Ting, ever, and are always asking if Ting Internet will be available in Bonners Ferry or Priest River.
Have you ever had to contact Ting customer service? If yes, please describe your experience.
Yes. In the rare instances I've had to contact Ting, the problem has been identified and resolved in a very timely and friendly manner.
What would you say to a business hesitating to switch to Ting?
Do it. It's worth the peace of mind gained on the customer service side alone.
Has Ting been a good community partner, and if so, how?
It seems as though Ting has been a regular sponsor of local events and organizations. That's great. But overall, my satisfaction is just due to the quality of service and the new quality jobs that Ting has offered folks in the local community.
"We haven't regretted the move to Ting, ever, and are always asking when Ting Internet will be available where our other locations are."
---
This is just one of many stories we hear from our customers about how Ting Internet has made their business more competitive, efficient and easy to manage.

Ready to supercharge your business? Get started today!
1. Uptime and bandwidth availability guarantees available with Enterprise Fiber package only.