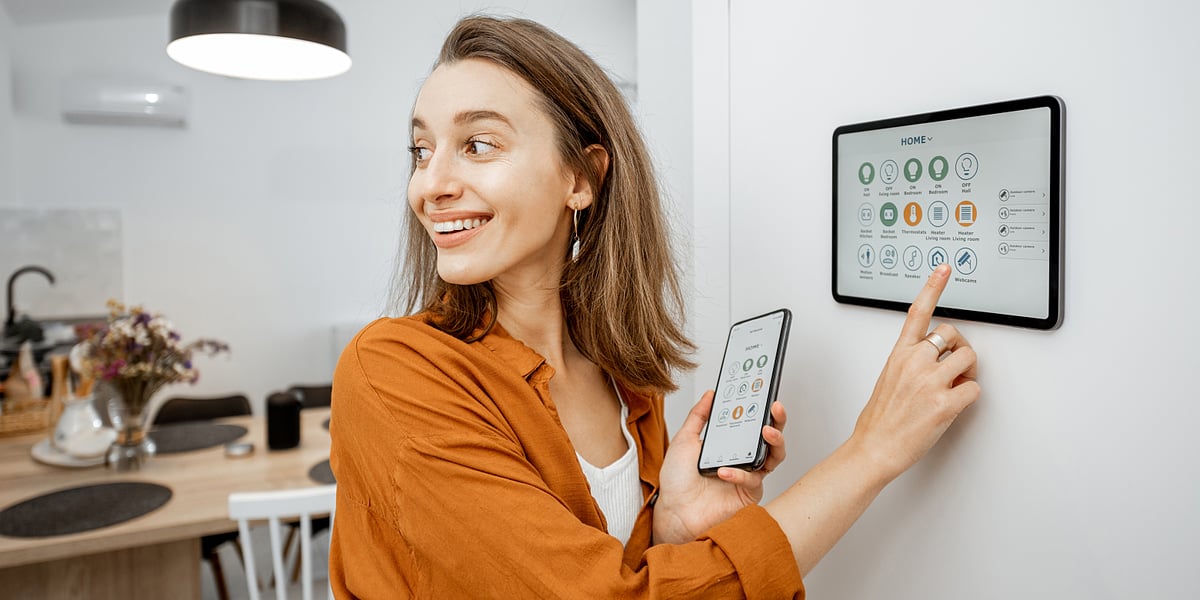 How to make your home a smart home
Learn how to make your home a smart home, room by room. For a truly smart home, you'll want a strong, fast and reliable internet connection.
---
You've seen all the cool gadgets: the fridges that keep track of your grocery list and the thermostats that save you tons of money. Now, you're ready to take steps to make your home a smart home—a household managed in part by internet-connected devices. There are many roads that can lead to a smarter home, and all of them start with a strong, fast and reliable internet connection, like fiber internet from Ting. Smart appliances require this kind of connection to do their jobs well.
For the most harmonious smart home experience, it's best to choose devices that will all play nice with one of the big smart home operating systems, such as Amazon's Alexa, Google Home, LG's ThinQ or Apple Homekit. Using devices on the same system can streamline your experience and allow you to control all of your connected devices from one central hub, like your phone or a voice-activated home assistant device.
As for the gadgets themselves, let's go room by room to get a better idea of what your smart home could look like.
Your front door
No more peeking out of peepholes. Smart doorbells, such as those from Ring or Nest, send a video feed straight to your phone or computer, and they can record footage and call emergency services if needed. Smart doorbells can also be integrated into a wider security system with cameras inside and outside your home.
Getting locked out because you forgot your keys is now entirely avoidable with a wide variety of smart locks. These locks can be unlocked by a code, a phone, or even your fingerprint or voice. These features are helpful not only when you forget your keys, but also when you have your hands full or you want to give someone temporary access to your home.
Your kitchen
A smart fridge keeps track of what's inside and can allow you to make a grocery list right there on your fridge that then syncs to your phone, making grocery shopping a snap. Some smart fridges already enable you to order groceries right from the fridge itself, and the hope is that future smart fridges will be able to tell you when you're running low on certain products and automatically order more for you.
Multicookers like the CHEF iQ and Instant Pot can connect to the internet and be controlled by an app on your phone, so you can keep an eye on your dinner as it's cooking, even if you're in another room or outside the house. Other smart devices worth considering for your kitchen include smart dishwashers that can reduce water use, and smart coffee machines to make your morning a breeze.
Your living room
A smart TV can connect you to all of your favorite bingeable content without needing to plug in an external box or hook up to cable.
Using a smart thermostat can save you hundreds of dollars each year on heating and cooling costs. Smart thermostats allow you to control the temperature of your home via an app on your phone or another internet-connected device. Some models also have a setting that will turn the heat or AC on when they sense that your phone has left work and you're on your way home. This gives your system more time to heat or cool your home to the desired temperature, which means less energy use overall.
Smart light bulbs can offer you just the right ambiance with the touch of a button or even a voice command. However, if your goal is to reduce energy costs, you might want to install only a few smart bulbs, as they continuously use electricity to remain connected to your Wi-Fi network, even when they're turned off.
Your bedroom
Yes, you can even get yourself a smart bed. A truly smart bed is a little different from a bed that just allows you to customize certain settings, such as firmness and incline angle. A smart bed will collect data on how you sleep and optimize its settings based on that data, giving you the sleep you've always dreamed of.
While these devices individually don't use up too much bandwidth, you'll want a reliable internet connection to ensure your appliances can do their jobs at all times.
Make your home a smart home powered by ultrafast, reliable and secure Ting Internet.