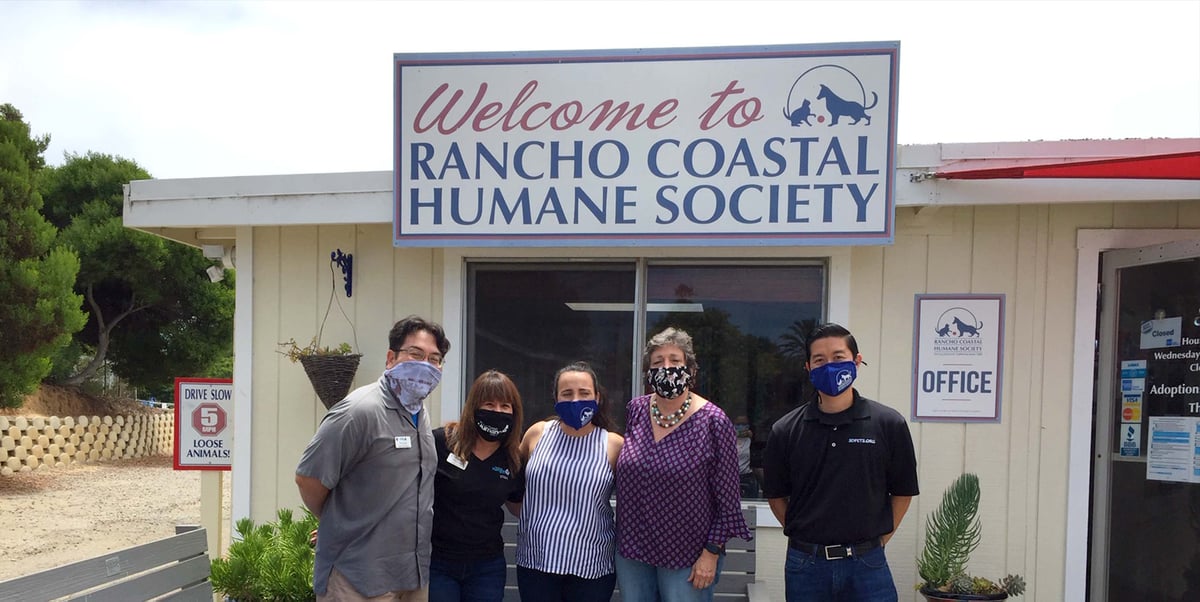 Mural
Rancho Coastal Humane Society is helping lost pets find new homes
Last fall, Ting Internet donated a portion of new sales to various animal shelters, including the Rancho Coastal Humane Society in Encinitas, California.
---
Last fall, Ting Internet donated a portion of new sales to various animal shelters across its markets. One of these shelters was Rancho Coastal Humane Society, a 60-year-old institution in Encinitas, California. This winter, Rancho Coastal allowed us to visit and tell their story.‍


Transcript

Judi Sanzo: Every time an animal goes home, we see that as a success story. We want to work on eliminating a bad experience which preceded their arrival at the shelter and turn that pet into a pet that will find compassion, comfort, and love in a new home.

Rancho Coastal Humane Society was founded in 1960 by Maria K. Lloyd. She was an animal activist. Her mission was to rescue anything that was lost or abandoned and to make it well and healthy and then return it back into the community.

One of the things that we're all concerned about is the number of animals that are lost or abandoned in San Diego County. That number is about 45,000 animals a year. Adoption is our second nature. It's part of our mission. Bringing animals together with humans for lifelong companionship is certainly good for the human and good for the pet.

We have five acres here. But the thing that makes Rancho Coastal unique is that we have the luxury of time. We are what's called a "limited-admission shelter," which means more than 90% of our animals come from other shelters which are overcrowded and are stressing to be able to provide the level of care we can provide. And so, as a consequence, we get to know our animals very well.

The animals are getting a lot of interaction with our staff, with our volunteers; behavior and training and enhancement activities on a daily basis. We have a beautiful park. Bringing them outside to sit in a pool during the summertime, to engage in play with other dogs, and to engage in interactions with potential adopters, as well as the resident dogs of those homes to see if that's going to be a good fit.

Our medical staff is extraordinary. They are working in a very, very small space to do extraordinary things, to bring our animals into a condition that makes them imminently adoptable.

Bellwether came to us with more than 400 fox tails buried in her fur. There were six surgeries and more than 420 days of rehabilitation from the procedures that we engaged in in order to get her foxtail-free and available for adoption. She's gone home, and she is absolutely the most adorable pet.

People can support Rancho Coastal Humane Society in a number of different ways. Come in, volunteer, become a foster! Because we are self-funded, money is always a key factor for us. And in fact, at Rancho Coastal, more than 85% of the money we raise goes directly to programs that support the animals in our shelter and the animals in our community who need a little helping paw.


This place is full of a lot of love, and in fact, it's sort of lovesick because when we send an animal home that we've all fallen in love with, we feel really bad. But then we get that very first email from the adopter that says, "Look how happy this dog is in its new home!" And we feel better.