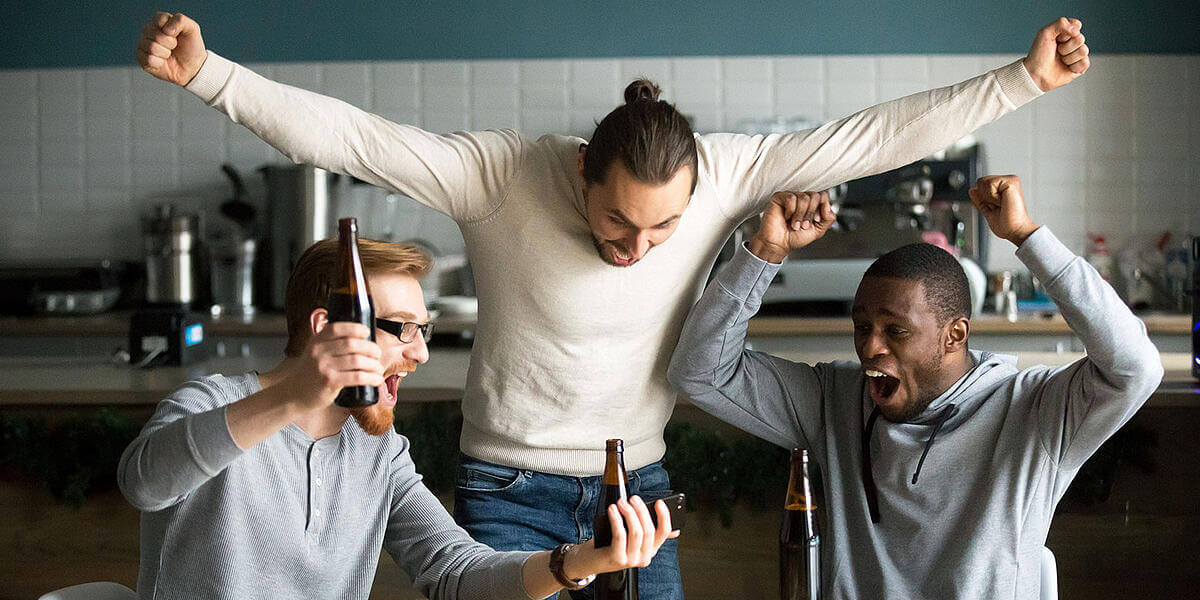 Tips & Tricks
Live sports streaming across your devices has never been easier
Many of us held on to cable because of live sports. Now, with more streaming sports options than ever, you can cut the cord and still enjoy every game.
---
These days, more and more viewers are cutting the cord and relying on different streaming services to get their viewing fix. If there was one segment of viewers the cable companies could rely on, though, it was sports fans. For one thing, streaming sports wasn't nearly as easy as tracking down an episode of Friends. Also, streams weren't always reliable. As a result, cable and network TV channels were given a stay of execution by the most hardcore aficionados.
As more and more online services have started to offer live sports streaming as an option, however, it looks like cable's sports dominance is on its way out. There's the added convenience that you can watch your team on any device, even while on the go. At home, with light-speed gigabit fiber internet from Ting, you can be sure that your HD streams won't fail you right before the big play. From MLB to March Madness, you'll be able to see it all. "But Ting, surely there isn't any way to see every single game from every sport live?" you might ask dubiously. While we can't promise that every game will be at your fingertips as it happens, if you follow these suggestions, it'll be pretty darn close.
How to watch sports online live
Photo by Wade Austin Ellis
Something that sets sports fans apart from the average viewer is the importance of watching games live. Most sitcoms are just fine to watch on-demand the next day or even weeks later. With sports, there's something magical about seeing the drama unfold in real time. Also, you won't have to worry about that social media post or jerk friend spilling the beans on the final score before you can watch the rebroadcast game. That's why our focus is going to be on ways to watch live sports. Your new best friends in this realm are over-the-top (OTT) streaming services that offer content from multiple channels (and yes, nearly all of them offer the holy grail of ESPN streaming). Think Netflix, but also with entire channels of live content instead of only on-demand single shows. For those of us who aren't interested in battling pop-up ads, broken links and low-quality streams or unexpected dropouts, OTTs provide reliable, high-quality sports streaming. Here are some of the absolute best!
The best sports streaming services
YouTube TV
The often-misunderstood YouTube TV isn't just a pumped-up version of the popular website. It's a true streaming media service like the ones above. At $65 per month, it's more expensive, with a cost comparable to cable. However, you get a heck of a lot, including 85+ channels and unlimited cloud-based DVR storage. NFL, NBA and MLB league channels are included, as is a huge list of sports shows. If it's in your budget and you're a firm believer in "more is more," YouTube TV may be the one for you.
Fubo TV
When Fubo TV launched in 2015 as a soccer-only streaming service, stateside fans of "the beautiful game" rejoiced. While it has since expanded to include a wide range of programming, it without a doubt continues to be a sports-first service. With its incredible selection, a long list of supported devices and features like 4K support, Fubo is one of our favorites. With a mammoth 1,000 hours of cloud DVR storage, you can record games and shows to watch later at your convenience. Starting at $70, it's a similar proposition to YouTube TV—pricey, but worth it if you're looking for the huge variety of programming that 96 channels (with an added emphasis on sports) gets you. Oh, and that's the base plan. For $10 more, you can upgrade to the 158-channel "Elite" plan, and if viewing entertainment is worth $100 to you, the outrageous "Ultimate" plan offers close to 200 channels, including Fubo's Sports Plus package with coveted channels like NFL Redzone.
Sling TV
Sling TV originally gained popularity as an all-encompassing service. As such, it may not have the variety of regional sports channels that Fubo boasts, but its overall selection guarantees you'll have access to a lot of streaming sports content. Sling's generous 100 hours of cloud DVR storage is a nice touch as well when you need to record a few days' worth of games to watch on the weekend. Overall, channel count is also lower than the others, but Sling is easily the most affordable of the bunch. Depending on your channel preferences, pick the Orange or Blue package for $40, or get both for $55.
Hulu + Live TV
Hulu entered the live TV fray with Hulu + Live TV (we would have loved to be a fly on the wall at the marketing meeting that birthed that imaginative title). This is yet another "more is more" service. $75.99 gets you 75 channels, including numerous ESPN offerings, CBS, NBC and Fox's sports channels, and a few more (it goes down to $70 if you don't mind more ads). Of course, then there are local and regional channels that show games that may not be aired on the national channels. There's an extra perk here though: you'll also get access to the majority of Hulu's regular on-demand streaming library.
Other live sports streaming options
UFC Fight Pass
UFC Fight Pass is unique among single-promotion or league sports streaming services. Due to owning a number of other promotions plus the brand's sheer popularity, you'll be able to see MMA fights from around the world even when UFC is dormant. In addition, live boxing, kickboxing, submission grappling and other combat sports are all on the roster. Thanks to an impressive list of original programming that keeps growing, you won't be bored between events. Of course, its bread and butter remains exclusive live UFC events and replays. If you love the world's fastest-growing sport, UFC Fight Pass is a must-have.
CBS All Access
CBS All Access won't let you see all the games in any pro league—just like regular CBS, they'll only stream games in your market. Where the service shines is its coverage of college sports. With CBS All Access, you'll get your fill of NCAA football, March Madness and a bunch more.
If you just can't see it live
As much as we wish we could see every game live, work/school/life can get in the way. Luckily, there are a few ways to get your peepers glued to the action as quickly as possible after the final whistle. League-specific services like NBA League Pass, NHL on ESPN+ and NFL+ (formerly NFL Game Pass) all offer on-demand streaming sports. They also have different packages to suit your level of fandom. If you can stay off social media during your commute home (those kitten posts will still be there later, we promise), you can enjoy that midday game after dinner as if it was just starting. Don't forget, though: Some of the larger streaming services covered earlier include league-specific options.
Live sports without cable is at your fingertips
As you can see, there's never been a better time to watch live sports without having to rely on cable TV. If you're savvy with your choice of live sports streaming providers, you can watch every game your action-loving heart desires. Schedule conflict between two games? No problem! Just DVR one and pull it from the cloud afterward! And when you choose lightning-fast fiber internet from Ting, you can count on reliable, crystal-clear ultra HD streams. No need to thank us, cord-cutters—just don't tell your significant other we're the reason you were able to watch live sports all weekend, and we'll call it even.