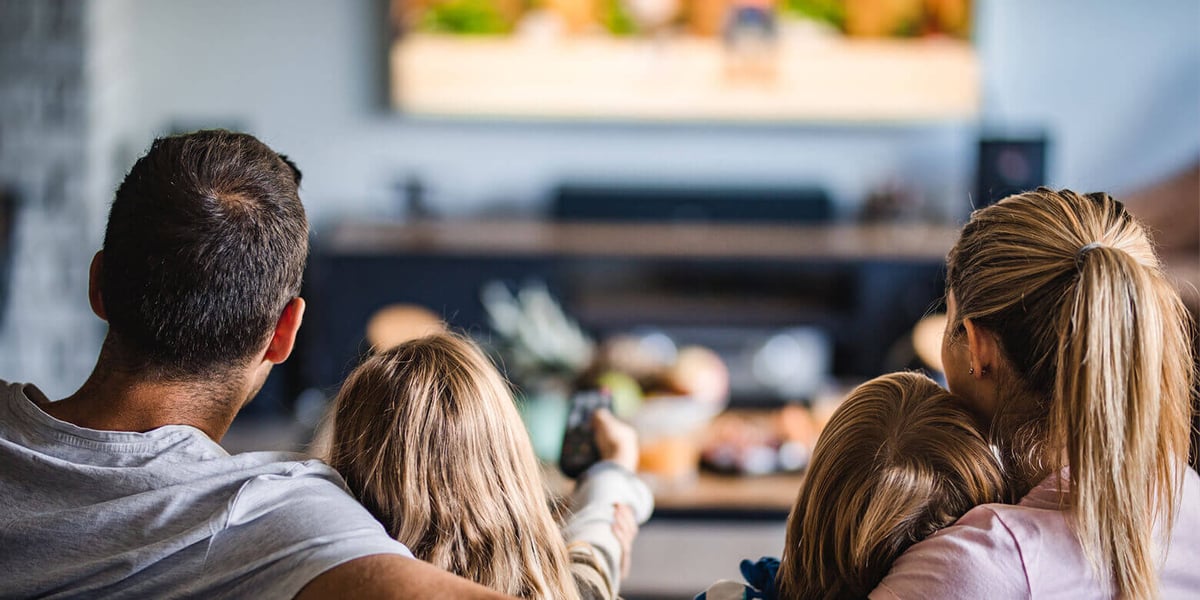 Streaming
Streaming TV with Ting Internet
Streaming TV with Ting Internet will let you ditch cable TV and their price hikes for good. Here's how to stream TV and why is it better.
---
At Ting Internet, we prefer to say "upgrade to streaming TV" rather than "cut the cord." Why? Cutting the cord sounds subtractive. The truth is that ditching cable or satellite and getting your TV fill over the internet is anything but. However, with so many different streaming services and devices out there, choosing what would work best for you and your family can be an overwhelming task. Here's all you need to know about streaming TV.
What is streaming TV?
In simple terms, streaming TV is the ability to watch TV over the internet without the big dusty cable box, without the limitations, and without the nasty long-term contracts. Streaming TV is everything cable companies offer and more—just without the cable company.
Why is streaming TV better than cable?
First, you get all the channels you love from cable TV and the ability to record your favorite shows and events, so you start out on equal footing. More so, you can also use the same device to access all kinds of great content from the likes of Netflix, Amazon Prime, AppleTV+ and more. Best of all, there are no contracts, and you don't have to call your cable company to cancel or change your services.
What can I watch on streaming TV?
It probably sounds a little silly to say "everything" but… everything! Services like YouTube TV and Sling TV have live TV channels, a program guide, and records via DVR, just like the cable you're used to. There are also apps like Netflix, Amazon Prime, and AppleTV+ that have extensive video-on-demand (VOD) catalogs for you to watch whenever you want.
How do I get streaming TV?
The short version is that you need a TV that can run apps, so you can then sign up for the ones that have channels or shows you want to watch. Most new TVs on the market in the last few years are smart TVs, which means they can run apps.
If your TV is just a regular TV, you'll need a streaming device to make it "smart." These smart devices replace your dusty old cable box and make your TV into a smart TV. Some streaming devices, like the Apple TV 4K, give you better picture quality and experience than some smart TVs, so it can be a worthwhile upgrade. More on streaming devices here.
Once you're able to run apps on your TV, you can then pick which service or services you want to use. Some of these apps, like Netflix or Amazon Prime, are entirely video-on-demand (VOD) content, whereas others are similar to a more traditional cable experience. For example, if you open the YouTube TV app, your TV will now look and behave just like the cable service you were used to. It has all your local TV channels, a familiar program guide and even a DVR. There are a lot more streaming services to choose from–you can try out different ones and if you don't like the channel lineup, simply cancel your subscription. There are no contracts and no obstacles to canceling.
How do I get the most value out of streaming TV?
Once you make the switch to streaming TV, you're no longer limited to just the channels or content your cable company provides. You can now use the same streaming device to access video-on-demand (VOD) services like Netflix, Disney+, Amazon Prime, Apple TV+, HBO Max and more. Nearly all of them come with some kind of free trial, so you can see if they have things you're interested in, and if not, you can cancel at any time.
What else do I need in order to stream TV?
After your upgrade to streaming TV, you'll need a reliable internet connection to ensure buffer-free, seamless streaming. It's hard to do better than Ting Internet. Our 1,000 Mbps connection ensures you'll have more than enough bandwidth to stream HD television on every device in the house simultaneously. Since we use a fiber-to-the-home connection, you'll enjoy consistent high speeds unaffected by weather or neighborhood traffic. We believe in fair, simple pricing, and we'll never lock you into a contract. We also offer a couple of hardware options, including the new Apple TV 4K and the Amazon Fire Stick 4K.
Want to upgrade to internet that matches your love of streaming? See if Ting is available in your neighborhood.